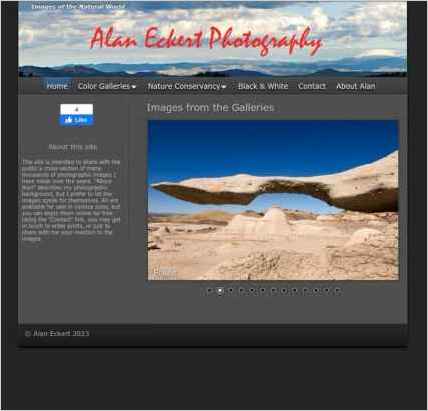 Sandvox was the choice for Alan W. Eckert to build his website. He chose the "Smooth Dark" design for the site. People may want to visit the site if they are looking for Photographs of the Natural World.
Sandvox features used for this site:Photo Grid, Custom Collection Index, Contact Form, Other Objects
Visit Alan Eckert Photography »
---
Describe your website.
My website is intended to share with the public a cross-section of many thousands of photographic images I have made over the years. Most are nature, wildlife, and landscape photographs, but I have also included photographs of architectural features, birds, flowers, and wildlife. The "About Alan" page describes my photographic background, but I prefer to let the images speak for themselves. All are available for sale in various sizes, but you can enjoy them online for free.
Who is the target audience for your website?
My site is intended both to share my work with the public and to serve as a showcase for my images for the benefit of fine art print collectors, photo editors of magazines, book publishers, and others who may be interested in acquiring prints or reproduction rights. Over the years I have licensed a number of images for publication as a result of the exposure they have received through my website.
What is the advantage of your website over others?
The principal advantage of my website for commercial purposes is that I have a number of images of places that are not commonly open to the public. For example, I licensed some images of Great Blue Herons at The Nature Conservancy's Nanjemoy Preserve to a school textbook publisher because, having made the photographs on assignment for the Conservancy, they were the only available images meeting the publication requirements.
Why did you use this Sandvox design?
I chose the Smooth Dark design after reviewing all the available Sandvox designs and some third party designs as well. Its muted dark gray background allows the photographs to stand out and its uncluttered design facilitates viewer navigation around the site.
---
---
www.SandvoxSites.com/3136