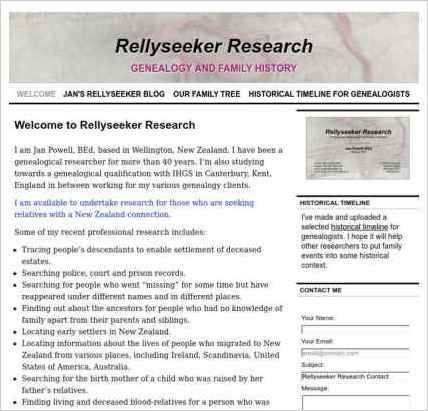 Sandvox was the choice for Jan Powell to build her website. She chose the "Distinction Grey" design for the site. People may want to visit the site if they are looking for genealogical research, family tree, family history, blog.
Sandvox features used for this site:Blog, External Page, Site Map, Contact Form, Editing HTML of text
---
Describe your website.
My website is about my family history research business. My site has my genealogy blog and has my own family's genealogy findings under the headings: BIGHAM-HORNER, POWELL-DIX, MAWHINNEY-DALTON, MARTIN-HARRIS, HECTOR-ALLEN and JOHNSON-GARNHAM.
Who is the target audience for your website?
The people who are interested in my site are those who are looking for a professional to research their family history in New Zealand (and overseas). Others will want to look at my personal family tree and all its branches.
---
---
www.SandvoxSites.com/3193