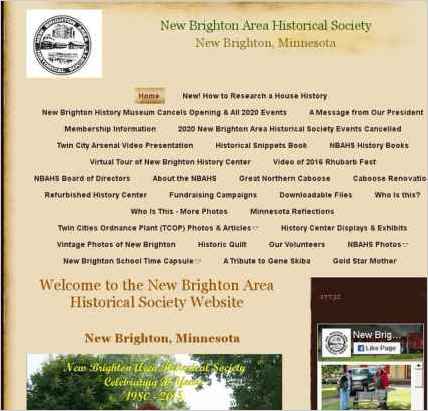 To build "New Brighton Area Historical Society," Joyce A. Kloncz chose Sandvox. She chose the "Telegraph Office" design for the site. People may want to visit the site if they are looking for historical societies in Minnesota.
Sandvox features used for this site:Photo Grid
Visit New Brighton Area Historical Society »
---
Describe your website.
Who is the target audience for your website?
Our audience would be those who are interested in the history of the New Brighton, MN area.
Why did you use this Sandvox design?
This design lends itself to an historic feel. It looks and feels appropriate to our mission.
What techniques did you use to build this website?
Most of the information was gleaned from the former iWeb site. It was easy to import information and photos, but also easy to add more information.
---
---
www.SandvoxSites.com/3273