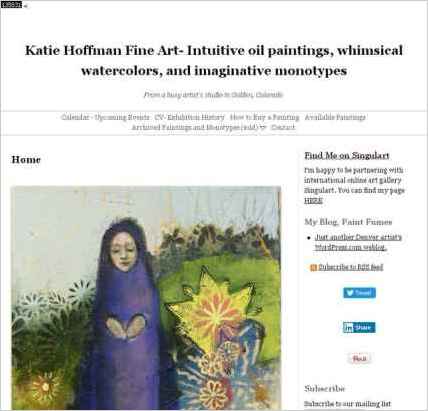 Katie Hoffman used Sandvox to build this website. She chose the "Clean Sheets" design for the site. People may want to visit the site if they are looking for Out of the ordinary original fine art in a variety of price poin.
Sandvox features used for this site:Blog, Photo Grid, Contact Form, RSS Feed Object, Other Objects, Code Injection
Visit Katie Hoffman Fine Art- Intuitive oil paintings, whimsical watercolors, and imaginative monotypes »
---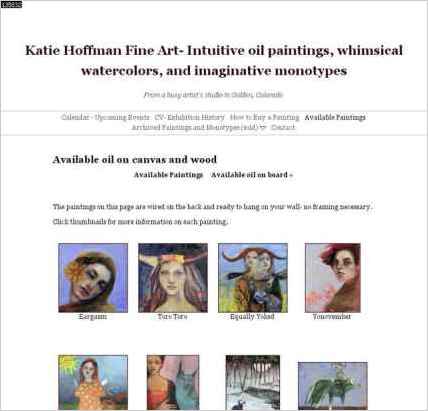 Describe your website.
As a visual artist, my site is primarily made of photo albums. I want people to be able to see my available paintings and know both size and price. I also want to display the many paintings that have sold over the years, as archived paintings. In turn, I organize the archives in sections by the year the work was made, e.g. Archived Oil paintings 2012. The ease of moving a page from Available to Archived after it sells is great.
Who is the target audience for your website?
My target audience is art collectors, curators, and gallery directors- anyone who is interested in viewing a wide variety of my artwork.
Tell us a story about this website.
It's a little early for that, but it was nice to have my daughter tell me that my website no longer looked "deep web internet 2.0."
Why did you use this Sandvox design?
Clean Sheets was ideal for me as I want a minimal design that lets my artwork be the focus.
---
---
www.SandvoxSites.com/3251