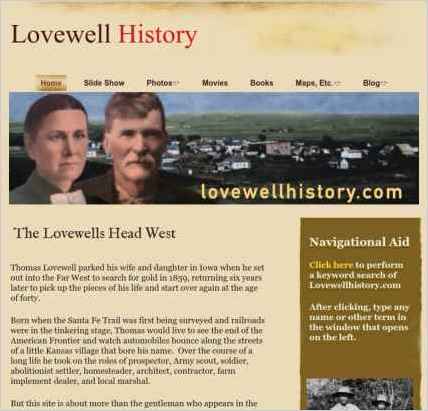 Dale Switzer used Sandvox to build this website. He chose the "Telegraph Office Fir" design for the site. People may want to visit the site if they are looking for The Lovewell family, the story of White Rock and Lovewell Ka.
Sandvox features used for this site:Blog, Photo Grid, Site Map, YouTube, QuickTime Audio/Video, Raw HTML Object, Google Integration
---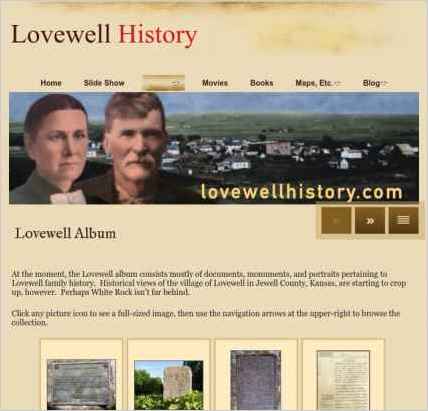 Describe your website.
The site contains dozens of historical photographs and maps, and about 170 short essays on historical topics, most of them related to family history, Kansas history, and the story of the American West as one family knew it.
Who is the target audience for your website?
While the site is geared to appeal to descendants of Colonial American hero Captain John Lovewell, almost anyone who likes odd or little-known aspects of American history, especially Kansas history, are sure to find something of interest.
Tell us a story about this website.
I'm always thrilled to hear from relatives willing to share their stories. After writing a piece about a physics professor who was the "Kansas Science Guy" of the late 1800's, and his daughter who dreamed of being an operatic soprano, I was surprised to receive an email from the girl's granddaughter, who filled me in on the happy ending to her grandmother's story.
Why did you use this Sandvox design?
The antique feel of the Telegraph Office theme seemed most appropriate for a site about family history and the Old West. I also wanted something simple, welcoming, uncluttered, and, above all, readable.
What techniques did you use to build this website?
I like to reserve the scrapbook-like photo pages of the Telegraph Office theme for showcasing historical photographs, which invite closer inspection, and generally use the slideshow page for eye-pleasing contemporary photographs of historical sites.
I'm always interested in knowing what kind of music was important in our ancestors' lives. For instance, there were a couple of Colonial ballads celebrating the last battle of Indian fighter Captain John Lovewell. I know the name of the hymn played at the funeral of Thomas Lovewell's daughter Julany, and the favorite tune of his granddaughter Edna, one of the first female attorneys in Nebraska. Aspiring operatic soprano Marguerite Lovewell gave numerous concerts, often concluding with an operatic treatment of the Scottish ballad "Annie Laurie." By inserting the HTML code for Apple's iTunes widget, I can give visitors to the site a sample of what would have been on their ancestors' iPod Playlists.
---
---
www.SandvoxSites.com/3209