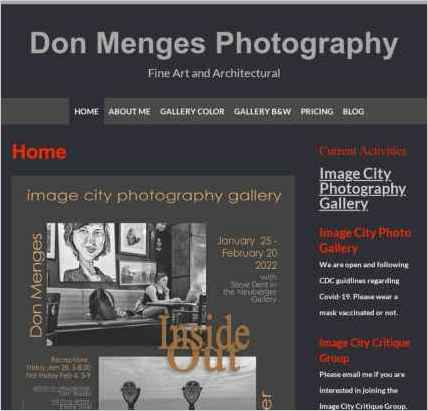 Sandvox was the choice for Don Menges to build his website. He chose the "Blueball Simplex Dusk" design for the site. People may want to visit the site if they are looking for menges photography Rochester New York.
Sandvox features used for this site:Blog, Photo Grid, Contact Form, RSS Feed Object
Visit Don Menges Photography »
---
Describe your website.
My website is designed to allow users to view samples of my work and to check out pricing. I am also beginning a blog about photography to lead others to reliable sites to learn more.
Who is the target audience for your website?
I am aiming my website at both potential customers to purchase beautiful images for their home or office, as well as photographers hoping to gain more information about good photography.
Tell us a story about this website.
While in my gallery the other night, a woman was interested in one of my images and wanted to know if I had anything similar, but with a variation in subject. I brought up my website on my iPhone and showed her other sample in my online gallery. She was impressed and bought one of them.
Why did you use this Sandvox design?
I chose the "Rounded Blue" design because it was graphic, yet simple. I didn't want a complicated design to distract from my images.
---
---
www.SandvoxSites.com/3208