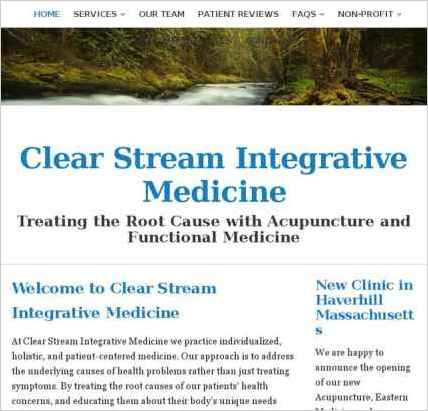 Sandvox was the choice for Spencer Ames to build his website. He chose the "Blueball Reactive Blue" design for the site. People may want to visit the site if they are looking for Acupuncture, Traditional Chinese Medicine, Oriental Medicine.
Sandvox features used for this site:Blog, Site Map, Contact Form, Google Integration
Visit Clear Stream Integrative Medicine »
---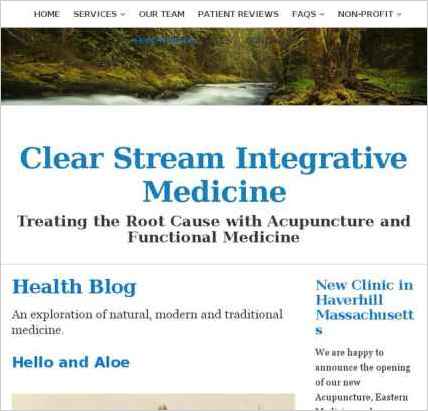 Describe your website.
Our website is intended to provide information on our Oriental medicine, acupuncture, herbal and nutritional medicine practice, as well as our non-profit work in Denver, Colorado and Phnom Penh Cambodia. We have included a blog on health and herbal medicine; an introduction to our organization and our practitioners; some detailed explanations about our nursing and medical facility programs; our non-profit work in Tanzania; as well as an explanation of what acupuncture and herbal medicine are and how they work.
Who is the target audience for your website?
It is our goal to connect with potential clients and other healthcare practitioners, as well as to provide education to the general public. Our audience would include both men and women; young and old; and pediatric and senior populations in Denver, Colorado and Phnom Penh, Cambodia. Our potential clients would be anyone seeking alternative medicine, acupuncture, traditional Chinese medicine, and herbal medicine.
What is the advantage of your website over others?
Our website has the unique advantage of having great information on acupuncture, herbal medicine, and traditional Chinese medicine from both a traditional and modern perspective. We work with integrative medicine, which combines the best of traditional and modern medicine. Our website aims to show that unique perspective. Our site is thorough, simple to navigate, and professional.
Why did you use this Sandvox design?
I chose this design because it is simple, elegant, professional, and is a good medium for me to clearly present my business.
---
---
www.SandvoxSites.com/3172