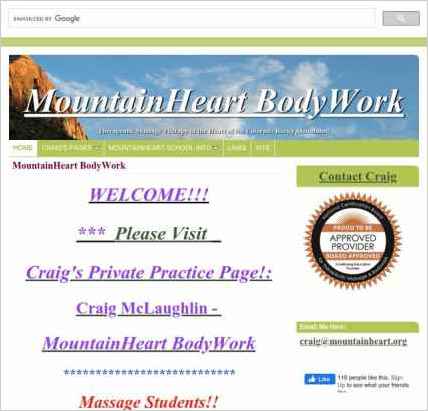 Craig McLaughlin used Sandvox to build this website. He chose the "Earth & Sky" design for the site. People may want to visit the site if they are looking for Massage Therapy School Colorado.
Sandvox features used for this site:External Page, Photo Grid, Custom Collection Index, Site Map, Contact Form
Visit MountainHeart School of Bodywork »
--- Describe your website.
Who is the target audience for your website?
The people we reach through the website are people interested in helping others with massage, bodywork, and stress reduction. They are men and women from all over the USA and beyond. They are looking for a personally satisfying and financially rewarding career. Our students are of all ages from 18 to 60+. They also want to attend a school that is user friendly, professional, low stress, teaches beginning and advanced healing techniques, prepares them for testing and job placement, and is in a wonderful environment.
What is the advantage of your website over others?
My website simply provides all the information a prospective student might need to choose a high quality massage school at a very reasonable cost as a way of entering the wonderful career of massage therapy. There are also great downloads that contain free and helpful information for students and the general public.
Tell us a story about this website.
We had a prospective student call in and in the course of conversation they mentioned that they loved the website - it was very easy to use and had lots of great information. A week or so later, an attending student said he almost did not attend because he found the the website confusing. Knowing him well at that point, I thanked him for his feed-back and shared with him the story told by the other caller. He was a little embarrassed by his critical opinion, so I explained that what I needed was a sense of what to improve on the website to make it better for people just like him. He gave me some ideas, a few of which I looked and implemented. It was easy to do and hopefully has helped other viewers.
Why did you use this Sandvox design?
I chose the design I am using to reflect the nature of a mountain environment, which is our physical location in Colorado.
---
---
www.SandvoxSites.com/2873