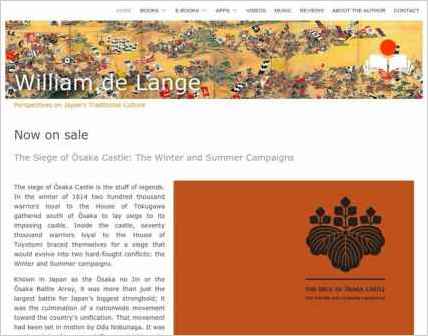 Sandvox was the choice for William de Lange to build his website. He chose the "Hydrogen" design for the site. People may want to visit the site if they are looking for Books, e-books, apps on Japanese traditional culture.
Sandvox features used for this site:External Page, Site Map, Contact Form, Other Objects, Google Integration
---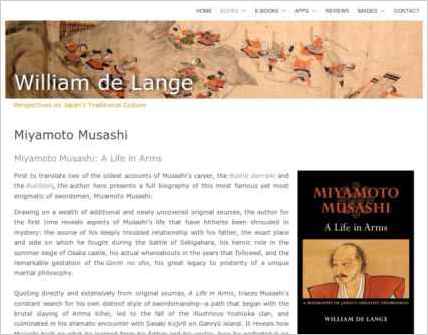 Describe your website.
My website gives an overview of books, e-books, and apps on Japan's traditional culture, from history, samurai culture, to arts & crafts, and language dictionaries. Each product, or series, has its own page, including my most recent book, a biography on the famous Japanese samurai Miyamoto Musashi, which is called Miyamoto Musashi: A Life in Arms.
Who is the target audience for your website?
Since I write on a wide range of Japanese topics, my website is there for anyone with an interest in Japanese culture, whether it is Japanese history, samurai culture, Japanese arts and crafts, or the Japanese language.
Tell us a story about this website.
I discovered that you should really give good thought to what exactly you put up on your sight. It was such a joy to work in Sandvox that I got carried away and put a lot of stuff on samurai up on my site—to such an extent that it affected the sales of my books. In fact, I realized that I had actually written another book in the process that will be released soon. So thanks to Sandvox!
Why did you use this Sandvox design?
It was love at first site when I saw the Hydrogen design. It is really beautiful. However, I also like some of the new designs Sandvox has released, so I might be considering an overhaul at some stage...
---
---
www.SandvoxSites.com/3061