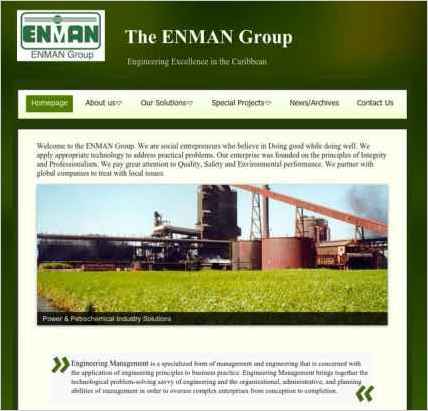 To build "ENMAN Group," Donald Baldeosingh chose Sandvox. He chose the "Aurora Palace Green" design for the site. People may want to visit the site if they are looking for Energy services, Advertising and digital media, renewable energy.
Sandvox features used for this site:External Page, Custom Collection Index, Site Map, Contact Form, Raw HTML Object, Google Integration
---
Describe your website.
We supply outdoor electronic billboards and media and advertising solutions. In addition, we provide Interactive whiteboards and classroom technology. n the security side we supply GPS trackers and CCTV. We also offer solutions for the energy & power industry and the oil, gas and petrochemicals industries. We are launching push to talk. All of this is carried on our website. We hope to build interest in what we do and to receive inquiries from the site.
Who is the target audience for your website?
Business persons in Trinidad & Tobago and the Caribbean are our target. We like to meet persons who have major challenges that can be met with the use of appropriate technology.
What is the advantage of your website over others?
Our website is well organised in the functional areas in which we operate. It allows a visitor to navigate to the areas of interest and to receive pertinent information. Next, we have feedback forms to allow visitors to contact us for more information and for price proposals.
Why did you use this Sandvox design?
I could not dedicate much time to the site development in the earlier part of the project. So, although I was dabbling with Sandvox, we hired no less than three persons over one year to rebuild our site. They all insisted on using their Windows based tools. Not one of them completed the task and none of their work was of much use. In the meantime, I chugged away at the Sandvox demo when I had some time and produced and updated the site quietly and elegantly.
What techniques did you use to build this website?
I wrote much of the content in Pages so that we can also use it for other purposes such as company profiles and proposals. It was easy to paste these into Sandvox and have a seamless transition e.g. with imported objects.
---
---
www.SandvoxSites.com/3042