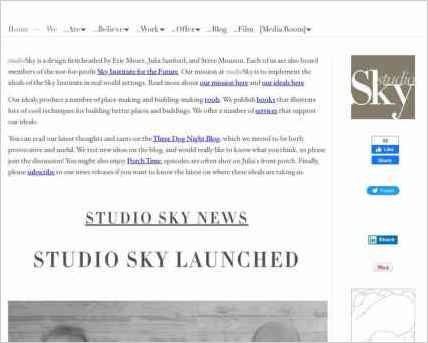 To build "Studio Sky," Steve Mouzon chose Sandvox. He chose the "Sky" design for the site. People may want to visit the site if they are looking for SmartDwellings, sustainable architecture, New Urbanist town plan.
Sandvox features used for this site:Blog, Photo Grid, Custom Collection Index, Site Map, YouTube, RSS Feed Object, Other Objects, Editing HTML of text, Raw HTML Object, Code Injection, Google Integration
---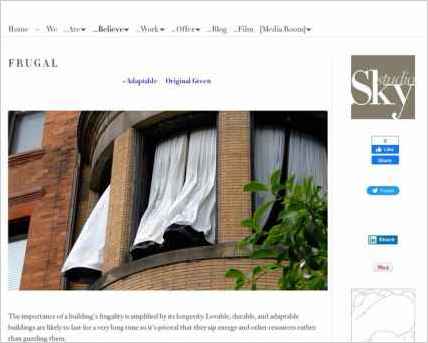 Describe your website.
Who is the target audience for your website?
We built this site for anyone looking to build a sustainable place or a green building.
What is the advantage of your website over others?
We made the Ideals collection the keystone of our site, and it operates in a very generous way. People can go there and learn many things about building sustainably without ever getting a sales pitch from us. All of the principles are illustrated with our work, and each idea contains a link back to the design in our portfolio that embodies the idea, but it's a very subtle way of selling that we believe is set to be far more effective as we enter the Age of the Idea.
Tell us a story about this website.
Unlike my other sites, Studio Sky's site represents three designers, each with strong design preferences. Under those conditions, site designs are likely to be watered down but this site actually accommodates the best of each vision.
Why did you use this Sandvox design?
Once again, Clean Sheets allows me to create a site with a remarkable and compelling persona.
What techniques did you use to build this website?
Sandvox collections shine on this site, allowing us to organize a lot of information in ways that are easy to comprehend and access. And we use slide shows to great effect here as well. This site also incorporates many lessons first learned on originalgreen.org
---
---
www.SandvoxSites.com/2901