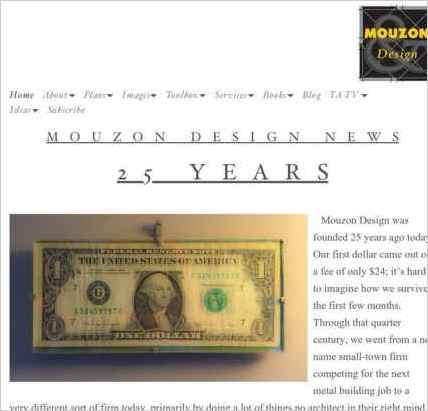 To build "Mouzon Design," Steve Mouzon chose Sandvox. He chose the "Mouzon" design for the site. People may want to visit the site if they are looking for architecture, sustainable architecture, New Urbanism, town plann.
Sandvox features used for this site:Blog, Custom Collection Index, Site Map, YouTube, RSS Feed Object, Other Objects, Editing HTML of text, Raw HTML Object, Code Injection, Google Integration
---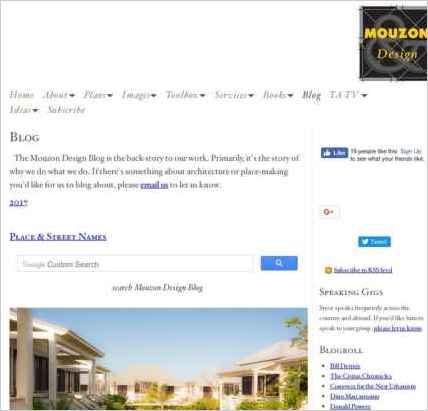 Describe your website.
The Mouzon Design site is the web presence of a husband-and-wife design studio of the same name. The About pages describe the firm in detail. The Plans collection includes several of the Katrina Cottages we have designed. The Images collection includes both the Catalog of the Most-Loved Places and Select Images from a broad range of places. The Services pages include the things we do, and Books is our "friends-and-family" bookstore. Our Blog covers a number of issues important to our practice.
Who is the target audience for your website?
The Mouzon Design site is designed for anyone who is building or sustaining places or buildings. We work primarily in the Western Hemisphere, often in places with heat, humidity, and (sometimes) hurricanes.
What is the advantage of your website over others?
Websites built for architects are seldom much more than online portfolios, with the implied tag line of "come adore my work" because there's not much else you can do there. We built our site from the beginning to be primarily about ideas, because that's normally what interests most people.
Tell us a story about this website.
The story about the Ideas collection hasn't happened yet… but I think it will. The Ideas collection is where I'm planning to put a bunch of worthwhile stuff we don't have time to work on, but which i hope piques someone else's interest. I hope that someday someone says "Remember this idea? I found it on your site, and have taken it and made it real, and it helped a lot of people."
Why did you use this Sandvox design?
Clean Sheets is so flexible that you can build pretty much whatever you want. Prior to the Meltdown, lots of sites built for architects and planners were gummed up with lots of graphic elements, but in the years since, our tastes have become much more frugal and so many of the pages on mouzon.com have a single beautiful image at the top and simple beautiful text below, with little else to distract your eye.
What techniques did you use to build this website?
mouzon.com uses a number of techniques employed in originalgreen.org. Additionally, it does the following:
• The Plans collection nests four collections deep so that you can quickly drill down to the types of plans you want to see rather than cluttering your experience with things you don't need.
• TA-TV (Town Architect TV) is a collection of video blogs pointing out architectural errors and how to fix them in sometimes-humorous fashion. The nesting abilities of Sandvox collections serve me well here as well.
---
---
www.SandvoxSites.com/2895