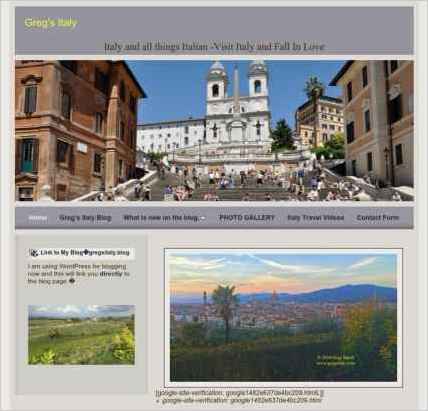 To build "Greg's Italy," Greg Speck chose Sandvox. He chose the "Cathedral" design for the site.
Greg's Italy
(Website is no longer listed here.)
Sandvox features used for this site:Blog, Contact Form, YouTube, RSS Feed Object, Raw HTML Object
---
Describe your website.
Travel Italy on your own. Interesting places in Italy and Sicily. Travel secrets, getting around in Italy without a tour. My blog updates with discoveries on travel in Italy and the most interesting places I have visited. Also my site provides links to similar blogs.
Who is the target audience for your website?
My target audience is anyone who wants to visit Italy. My travels have been from north to south and I will continue to explore new areas in famous places, as well as those that are gems not well known.
What is the advantage of your website over others?
I am not commercial. It comes from my love of the Italian lifestyle. This site is just for fun.
Tell us a story about this website.
I have learned to review the published site immediately after any changes to verify my links and spelling. So far no major errors, but I want it to be perfect.
Why did you use this Sandvox design?
The graphics and flexibility enabled me to produce a great site and introduce my blog, and external sites to help my readers.
---
---
www.SandvoxSites.com/3027