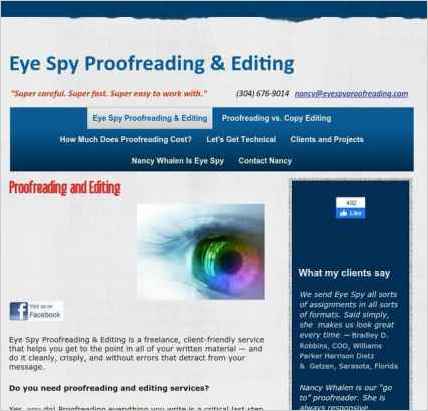 To build "Eye Spy Proofreading & Editing," Lois Post chose Sandvox. She chose the "Outside the Lines Blue" design for the site. People may want to visit the site if they are looking for professional proofreading copyediting.
Visit Eye Spy Proofreading & Editing »
---
Describe your website.
Eyespyproofreading.com describes the Nancy Whalen's proofreading service, her former and current clients, the difference between proofreading and copyediting, the technical aspects of proofreading, and how much proofreading costs.
Who is the target audience for your website?
Professionals who are looking for a proofreader to make their reports, portfolios, brochures, marketing copy, press releases, corporate summaries, etc. letter-perfect will be very happy to find Eye Spy.
What is the advantage of your website over others?
The Eye Spy website offers answers to questions about proofreading in a site that's clear and wonderfully easy to navigate, and makes it easy to contact Nancy by phone or email.
Tell us a story about this website.
Most contacts, of course, are for Nancy, the proofreader and my sister, but one day I got a very nice email from someone who was her competition, telling me, the site designer, what a great site she thinks it is. That was definitely a feel good for me. I do this strictly for love, not money, but an extra pat on the back was nice.
Why did you use this Sandvox design?
Nancy and I think "Outside the Lines," which looks like "rag" paper, gives our site the personal, and classy look we hadn't dared hoped to find. And I think the sidebar layout is perfect for keeping her testimonials in view for most of the pages.
---
---
www.SandvoxSites.com/2973