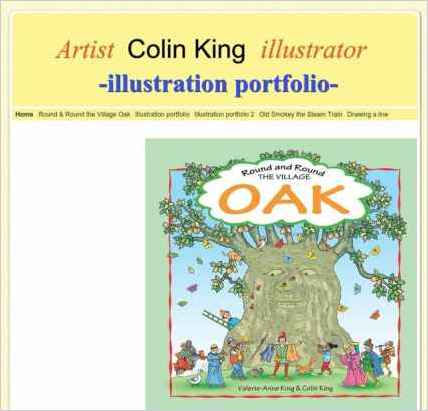 Mr. C. King used Sandvox to build this website. He chose the "Summertime Yellow" design for the site. People may want to visit the site if they are looking for Children's books.
Sandvox features used for this site:Blog, Photo Grid, Contact Form, Amazon.com, Other Objects, Google Integration
Visit Artist Colin King illustrator »
---
Describe your website.
My website shows examples of my illustration work.
This varies from a 'See inside How things work' children's flap book, to stories about pirates and dragons. I work in a traditional way using pen and ink, coloured inks and watercolour, as well as digitally.
Two of my early iconic books, 'The KnowHow book of Spycraft' and 'How your Body works', have been re-published by Usborne Publishing Ltd as part of their 40th Anniversary celebrations.
Who is the target audience for your website?
My target audience are publishers and artist's agents
who may be searching for illustrators for a new project. Also parents who may have bought copies of my books
and would like to know more about my work. Most of my illustrations are for children in the 5-9 age range, although I have illustrated for a younger age group as well.
What is the advantage of your website over others?
My website is a showcase for my work. Although it is not in direct competition with other artists, it may prompt publishers to use my style ahead of other illustrators!
Tell us a story about this website.
My Sandvox website has helped greatly with publicising my work. The local press in the east of England have run a feature about my work as a result.
Why did you use this Sandvox design?
I chose the 'clean sheets' template because I wanted an uncluttered, simple design to work with. It has enabled me to show my illustration work in a clean, but striking manner, just like the name of the template suggests!
I also use 'External page' objects to create links to Facebook, Linkedin, Amazon and Usborne Publishing.
What techniques did you use to build this website?
I used the simple drag and drop method for my images, which included a couple of simple animations, created in Photoshop.
---
---
www.SandvoxSites.com/2855