Guillermo Gómez Oehler used Sandvox to build this website. He chose the "Appleseed Grey" design for the site. People may want to visit the site if they are looking for espectáculos flamencos, flamenco granada, guitarrista.
Sandvox features used for this site:Blog, Podcast, External Page, Site Map, Contact Form, YouTube, RSS Feed Object, Editing HTML of text, Raw HTML Object, Google Integration
---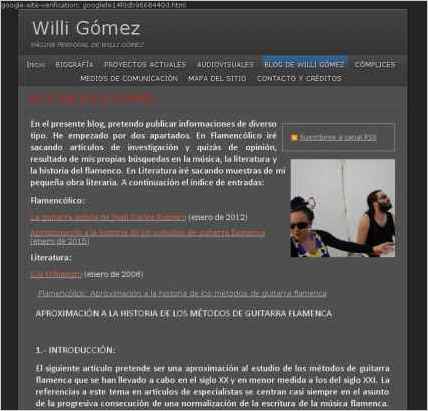 He entered his answers in Spanish.
Describe your website.
La web de Willi Gómez es un resumen de sus principales proyectos musicales flamencos así como de su investigación en el ámbito del estudio de la guitarra flamenca y de su creación literaria.
Who is the target audience for your website?
Personas interesadas en la música en general y en el flamenco en particular, flamencólogos, musicólogos, empresas que pretendan contratar espectáculos flamencos, managers, productores...
What is the advantage of your website over others?
Esta web es el mejor resumen de los proyectos musicales flamencos de Willi Gómez al tiempo que se constituye por medio del blog en una herramienta para profuncizar en algunos aspectos del estudio de la guitarra flamenca así como de dicha múcica en general.
Why did you use this Sandvox design?
Me gustan los diseños sencillos en los que se prima el fondo sobre la forma.
---
---
www.SandvoxSites.com/2471