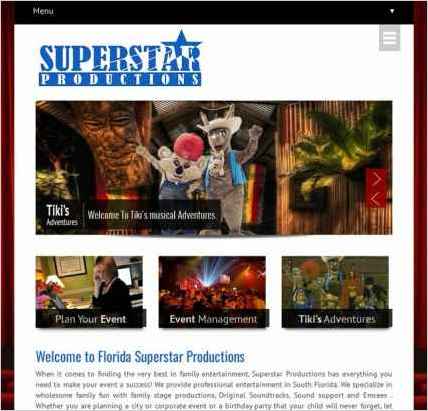 Sandvox was the choice for Robert Guerra to build his website. People may want to visit the site if they are looking for Family Entertainment ideas, talent and birthday entertainment.
Sandvox features used for this site:Custom Collection Index, Contact Form, Amazon.com, YouTube, Editing HTML of text, Raw HTML Object, Google Integration
---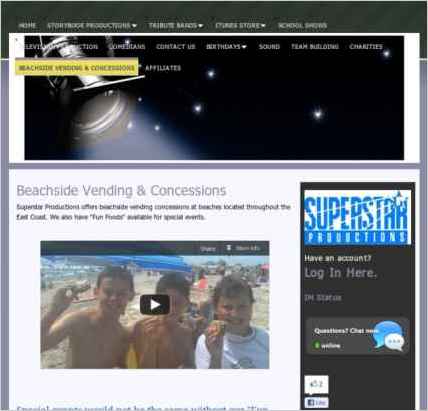 Describe your website.
Superstar Productions strives to provide the best familyentertainment and stage shows throughout South Florida. We have been providing Birthday party entertainment since 1988 and continue to grow providing Team building entertainment, television shows and sound support for bands and speakers. It is our intention to make every social function an event to remember.
Who is the target audience for your website?
Special event managers and coordinators, Marketing directors and anyone planning a party in the Florida region would be interested in viewing our website and seeing what we have to offer.
What is the advantage of your website over others?
Once clients use our services, they consistently become loyal customers as we always strive to align our goals with those of our clients. Since 1988 we have taken the time to meet each individual client's needs at every event.
Tell us a story about this website.
I am thrilled to say that I no longer have to send different links of our videos, Itunes and Amazon sites as it is now all included on our website. Just one visit and clients can now view all that we have to offer with just a few clicks.
Why did you use this Sandvox design?
I used a stock photo that we had of a spotlight as we are in the entertainment industry. It was a perfect fit.
What techniques did you use to build this website?
When using the raw HTML feature, I was able to increase the size of the videos that I have on my Vimeo site by changing the code used for width and height. It took some trial and error, but it was easy to do.
I currently am building another site and am finding how easy it is to add a "Widget". My visitors will now be able to see the weather at the beach from my site. Before this experience, I had no idea what a "Widget" was!
---
---
www.SandvoxSites.com/2476