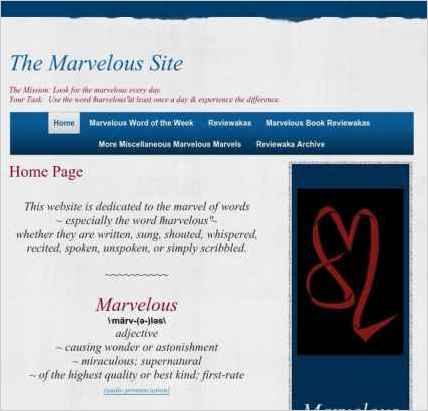 Sandvox was the choice for Diana L. Armentor to build her website. She chose the "Outside the Lines Blue" design for the site. People may want to visit the site if they are looking for book review.
Sandvox features used for this site:Blog, External Page, Site Map, Contact Form
---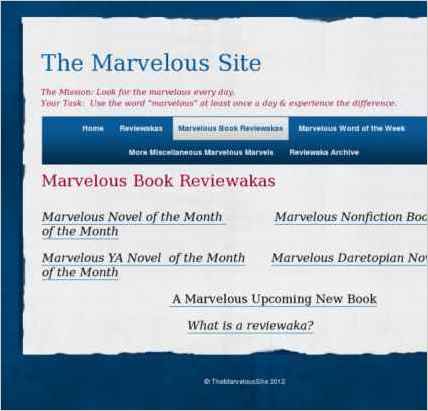 Describe your website.
My website is designed to promote the word "marvelous" and the beauty of language in all its various forms, including book "reviewakas" (a new type of book review for the modern age), a Word of the Week, a Quote of the Week, a Poem of the Month, and marvelously delicious recipes.
Who is the target audience for your website?
My website is for busy people who love to read as well as for busy people who want to take a moment to enhance their lives with an unusual word to adopt, a motivational quote to ponder, or a new, simple recipe to try out.
What is the advantage of your website over others?
The advantage of my website is that all things get straight to the point. For example, the beauty of the "reviewaka" is that it distills a book down to its very essence, giving the potential reader a glimpse of the story's soul. Reviewakas fit right into this day and age of hectic lives, text messaging, and twittering. With reviewakas, a reader does not have to spend a lot of time reading book reviews but, instead, can go straight to the truly marvelous . . . reading the book!
Tell us a story about this website.
My husband works in the construction industry. His co-workers have been so impressed with the quality of my website that many have started using my Word of the Week in their professional correspondences!I
Why did you use this Sandvox design?
I chose this design because it is neat and clean but not clinical. It is a design that inspires creativity. It also has a slight Japanese feel to it, and ancient Japanese poetry was the inspiration for the book reviewaka creation.
---
---
www.SandvoxSites.com/2305