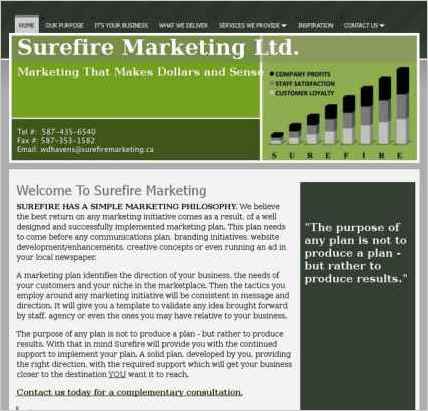 To build "Surefire Marketing Ltd.," Walter Havens chose Sandvox. He chose the "Galaxy Grey" design for the site. People may want to visit the site if they are looking for Simple Effective Supported Marketing Plans.
Sandvox features used for this site:External Page, Site Map, Contact Form, RSS Feed Object, Other Objects
Visit Surefire Marketing Ltd. »
---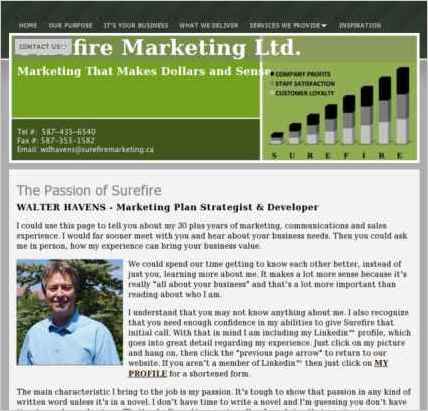 Describe your website.
By helping build simple, effective, and supported marketing plans we help our customers achieve their definition of business success. This is our only purpose and we bring it to our customers with a contagious passion because succeeding in business - should be fun :-)
Who is the target audience for your website?
We provide marketing support to small and medium sized businesses in Western Canada. Any business who services customers can benefit from the plans we help them build and continue to support even after the plan is in their hands.
What is the advantage of your website over others?
Our website is simple to navigate and explains exactly what we provide. Before anyone puts money into an ad or branding campaign for their business, they should utilize the services listed on our site. We are the "marketing horse" that needs put before the "communications cart".
Tell us a story about this website.
I took advantage of the simplicity and power of Sandvox. I was able to build my own site - the way I wanted it - without paying a programmer. In the future I can modify it, embellish it and grow with it as my customers needs and my services change. Being able to do this without the help of a programmer keeps things under my control and within my schedule. THAT is sweet........
Why did you use this Sandvox design?
With the design I chose, I was able to utilize the look and feel of my business card. This helps keep Surefires look and feel consistent which is an important element in establishing my brand.
What techniques did you use to build this website?
I incorporated Linkedin into my website which is an important networking tool. Because not everyone is on Linkedin I also included an external page so that everyone is able to access my bio.
I also include a new "inspirational quote" regularly that makes my home page content change, which is important to Google's site optimization.
---
---
www.SandvoxSites.com/2358