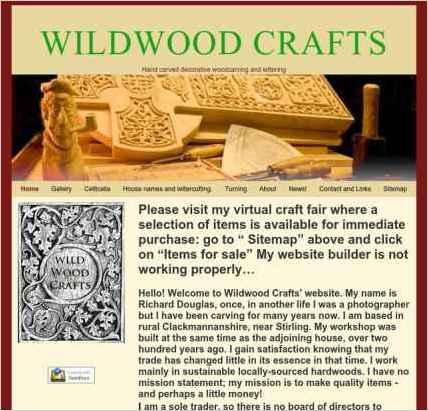 To build "Wildwood Crafts," Richard Douglas chose Sandvox. He chose the "Clockwork Maroon" design for the site. People may want to visit the site if they are looking for One-off bespoke wood carving in Scotland.
Sandvox features used for this site:Photo Grid, Site Map, Google Integration
---
Describe your website.
Wildwood Crafts website is designed to display my woodcarving, a gallery of past work and commissions such as hand-carved mirrors, house signs, celticalia and traditional Scottish themed carving and wood turning. I also include information on carving tuition, a brief section about me, my contact details and links to other similar bodies.
Who is the target audience for your website?
I hope to attract business from people who like exclusive, original work, who appreciate traditional values of craftsmanship and professionalism. Being based in Central Scotland, a great deal of history surrounds me and I would like it if some of the romance of that embodied in my work was valued by clients. The fact that I can produce one-off articles is important for some clients: an example is the trophies for the sheep-shearing contest, pictured in the Gallery.
What is the advantage of your website over others?
My field of work is limited but I have designed my website, with Sandvox' help, to be clean and uncluttered, without overly arty gimmicks. I think this sets my offer apart from one or two others that try too hard...
Tell us a story about this website.
I have been approached by a local craft joiner to act as subcontractor on a letter cutting commission for a project of national significance which will be prominently displayed for generations to come. It is not in the public domain yet, so I cant divulge its exact nature but I'm seriously chuffed! Something to tell the grandchildren about.
Why did you use this Sandvox design?
I like the page design because it is easy to read, its colour scheme is crisp, but not painful on the eyes. The soft grey tones do not compete with the images.
What techniques did you use to build this website?
I will use code injection to include tables in a future iteration of the website, to corral pieces of content in specific locations.
---
---
www.SandvoxSites.com/2559