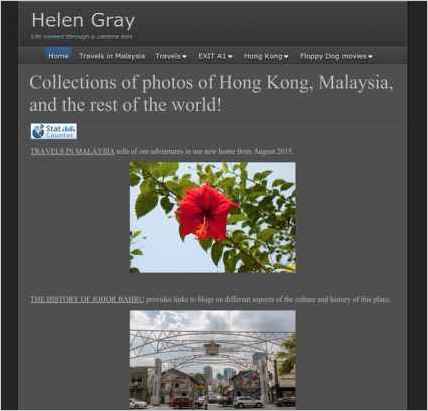 Lawrence Gray used Sandvox to build this website. He chose the "Smooth Dark" design for the site. People may want to visit the site if they are looking for photos of Hong Kong and its MTR stations.
Sandvox features used for this site:Blog, Photo Grid, Google Integration
---
Describe your website.
My website contains collections of photos of Hong Kong and my travels around the world. In particular, I have collections of photos of people and buildings taken around every MTR train station in Hong Kong.
Who is the target audience for your website?
Anyone interested in travel photography and what it means to live in Hong Kong. By taking photos around every MTR station, I can show the characteristics of the people and street scenes throughout Hong Kong. Such images should be of interest to anyone wanting to know what it is like in Hong Kong.
What is the advantage of your website over others?
My MTR photo collection is unique in its thoroughness. As some stations have many exits, by study focusses on Exit A1 throughout.
Tell us a story about this website.
My site is too new and currently incomplete to generate stories; hopefully they will come later.
Why did you use this Sandvox design?
It was recommended by my husband who already uses Sandvox.
What techniques did you use to build this website?
I am still learning, so no tips yet!
---
---
www.SandvoxSites.com/2555