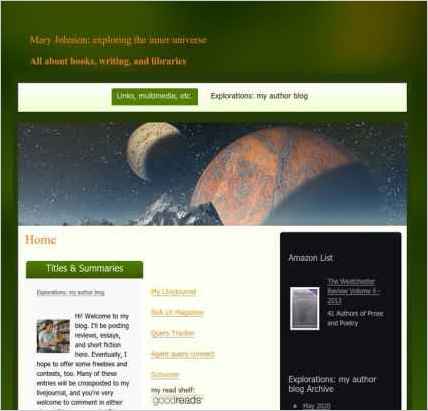 Sandvox was the choice for Mary Johnson to build her website. She chose the "Aurora Palace Green" design for the site. People may want to visit the site if they are looking for Information about books.
Sandvox features used for this site:Blog, External Page, Custom Collection Index, Site Map, Contact Form, YouTube, RSS Feed Object, Google Integration
---
Describe your website.
I am just beginning to put together an author site, since I've been told it is never too early to do this! I have links to blogs of authors and librarians, a personal blog, a twitter feed, and, when it's appropriate, I'll add an amazon button and freebies from my books, as well as images.
Who is the target audience for your website?
I'd like my fellow librarians and SF and fantasy fans to enjoy visiting this site. I hope it will also be an encouraging place for other beginning writers.
Tell us a story about this website.
This website is very new! Its sister site, our library site, has gotten hits from all over the country, and students and teachers have contacted me letting me know how useful they find it. They've also suggested links that would work well with the links I already have! But that's the library site. I hope something similar will happen with this new site - I love this sort of interactivity, and I love how easy it is to build an interactive site with Sandvox.
What techniques did you use to build this website?
Oh - I did make a custom banner. That took me awhile, but, if I can do it, anyone can! I purchased an image from Shutterstock, then pulled it into Photoshop to resize it so it would fit the space the template gave me. That - getting it to fit - was the hardest part! But I've gotten compliments on how pretty it is! I also have a custom banner up on the teenpage. That's great because it's actual teenagers in our teen room! My colleague and I did it from a snapshot I took. I've gotten compliments on that, too. And it's great for branding. We use that banner on flyers for teen programs in the library, and everyone recognizes at once that the flyers come from the teen room.
I think the template I'm using or this new page is Aurora Palace green. I chose it because I could insert a custom banner, and because the colors match the colors in my book trailer extraordinarily well!
---
---
www.SandvoxSites.com/2374