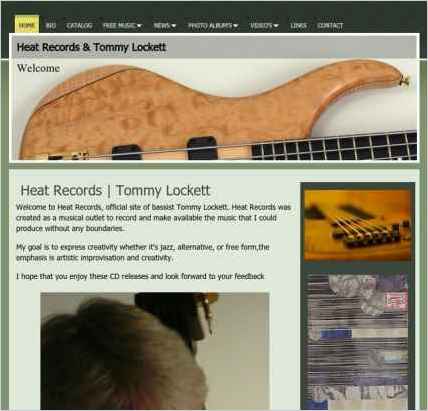 Sandvox was the choice for Tommy Lockett to build his website. He chose the "Galaxy" design for the site. People may want to visit the site if they are looking for Jazz, music, bass, guitar, piano, drums, movie music.
Sandvox features used for this site:External Page, Contact Form, YouTube, QuickTime Audio/Video, Other Objects
Visit Heat Records-Tommy Lockett »
---
Describe your website.
I list my catalog of my albums on my website to sell. I have a news column to keep people in the loop as to what I'm doing.
I have videos, so people can see some of my live performances.
I have links to other great musicians.
I have a photo page for people to see sessions.
I have a sections dedicated to free music that my fans can enjoy.
Who is the target audience for your website?
My target audience is anyone who likes jazz music, fusion music, great guitar players, great bass playing, great drummers, great art.
What is the advantage of your website over others?
The advantage is its simplicity, without sacrificing content.
Tell us a story about this website.
My website has created a focus point for my fans and provide information to potential clients
Why did you use this Sandvox design?
I tried many designs, but ended up with the current look, because of the way I could use pull down menus for my columns, and the boarders where I could feature art work.
---
---
www.SandvoxSites.com/2431