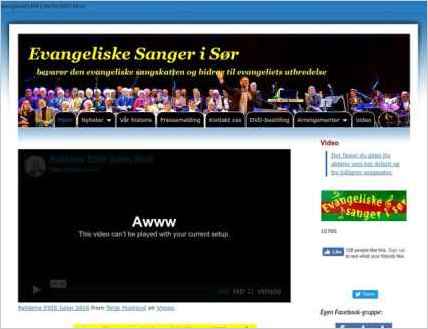 To build "Evangeliske Sanger i Sør," Geir Øynes chose Sandvox. He chose the "Blueball Pro Tabs Original Wide" design for the site.
Sandvox features used for this site:Blog, External Page, Photo Grid, Custom Collection Index, Contact Form, YouTube, QuickTime Audio/Video, Google Integration
Visit Evangeliske Sanger i Sør »
---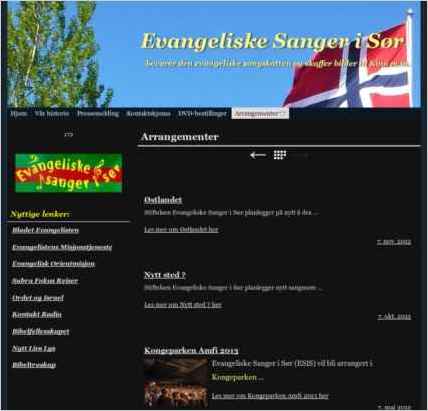 He entered his answers in Norwegian.
Describe your website.
Hjem viser en oversikt,
Vår historie forteller om hensikten med stiftelsen,
Pressemelding er den offesielle informasjonen om stiftelsen,
Kontakt oss om hvordan folk skal komme i kontakt med oss,
DVD-bestillinger viser hva folk kan kjøpe av DVD-produksjoner,
Arrangementer forteller om de enkelte arrangementene rundt omkring i landet.
Who is the target audience for your website?
Folk i hele Norge, både voksne og barn, kvinner og menn.
Why did you use this Sandvox design?
Enkelt og godt grensesnitt.
---
---
www.SandvoxSites.com/2484