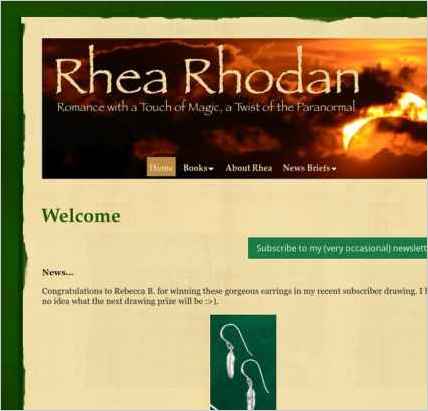 Rhea Rhodan used Sandvox to build this website. She chose the "Rhea Rhodan 2012 Green" design for the site. People may want to visit the site if they are looking for Romance Books.
Sandvox features used for this site:Blog, Site Map, RSS Feed Object, Raw HTML Object, Code Injection
---
Describe your website.
Rhea's website talks about her latest news, reviews, and works in progress. Prospective readers can access a longer excerpt of her books. They can also learn more about Rhea, and where to find her on social media.
Who is the target audience for your website?
This is a site for romance readers, especially those who like a twist of magic or a touch of paranormal in their stories. Due to content, it is not suitable for those under the age of 18.
Why did you use this Sandvox design?
Choosing the appropriate Sandvox theme took more time than setting up the site! It's very important to me that my web site reflect my personal style and the style of my writing. It also has to be easy to read and navigate.
---
---
www.SandvoxSites.com/2405