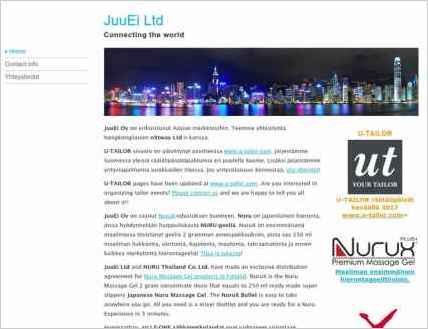 To build "JuuEi Ltd.," Janne Schoultz chose Sandvox. He chose the "Blueball White Blue" design for the site. People may want to visit the site if they are looking for electric scooters.
Sandvox features used for this site:Blog, Contact Form, YouTube, Editing HTML of text, Raw HTML Object, Code Injection, Google Integration
---
Describe your website.
JuuEi is a web-shop for electric scooters. Green thinking, green energy vehicles for professional and leisure use. Small, compact and completely pollution free (also noise pollution). An electric scooter is the number one choice for boaters in the Nordic countries.
Who is the target audience for your website?
Target audience are logistics companies, large companies where workers need to travel great distances like hospitals and airports. On the other hand leisure users like boaters find it easy to just fold the scooter and take it on the boat. In a guest harbor it is the ultimate means of transport.
What is the advantage of your website over others?
JuuEi.com (will be in English later) is easy to surf, all details are revealed easily. Or at least I think it is pretty cool.
Tell us a story about this website.
I had my first web-site up and running almost 20 years ago. I had registered a domain with my name long ago, but never really did anything with it. Then I decided to establish a small company just in case. New gadgets always fascinated me and I wanted to try to put up a web-shop. So, here it is...
What techniques did you use to build this website?
Google Analythics is part of the site. Works OK.
---
---
www.SandvoxSites.com/2409