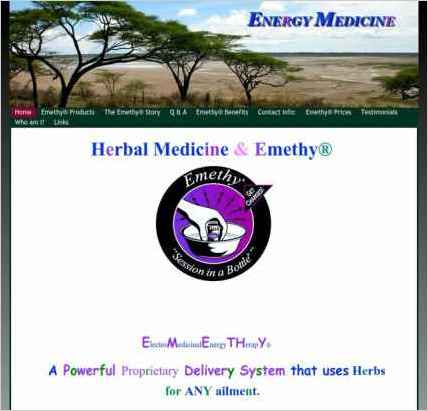 To build "Emethy," Gail Jacobsen chose Sandvox. She chose the "Serengeti" design for the site. People may want to visit the site if they are looking for Energy medicine, Homeopathic medicine, Fower essences, Radionics.
Sandvox features used for this site:External Page, Photo Grid, Contact Form, YouTube, QuickTime Audio/Video, Editing HTML of text
---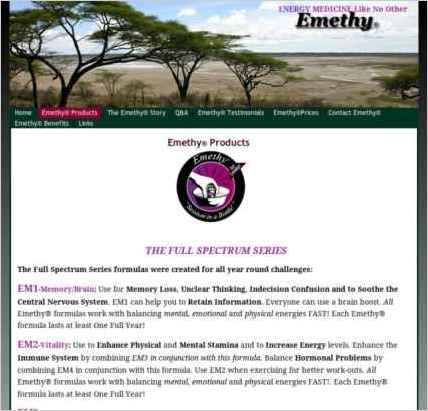 Describe your website.
There are formulas for nearly every condition imaginable-
MEMORY LOSS
ENERGY ENHANCERS
IMMUNE SUPPORT
STRESS
TRAUMA
ADDICTIONS
EYES
ETC.
The goal is to have people feel the BEST they can.
Emethy was discovered in Africa in 1981 and has been a word of mouth product ever since.
Who is the target audience for your website?
Men, women, children, pets, any age and with a health interest. Emethy attracts a Worldwide audience.
What is the advantage of your website over others?
Emethy is a one of a kind modality.
Entire families can share formulas. The properties of Emethy go directly into the blood stream via the nerve ending in ones fingertips. You get 100% of the healthful properties with each session.
Tell us a story about this website.
ADDICTIONS & ARTHRITIS....
I smoked for 20 years and have tried hypnosis and many things to quit smoking over the years yet NOTHING worked as I always went back to smoking. After using Emethy's EM10 formula I smoked my last cig and it's like I never smoked. I don't have any cravings at all! Its truly amazinggggg..my hubby is so proud of me :) It was Emethy's Addiction formula EM10 that did it. I'm so happy that I don't have this addiction anymore.
I also originally ordered Emethy's EM 10- Addictions, EM 11- Pain and EM 12 for Infections. I have rheumatoid arthritis very bad.. am in constant pain (was) from the meds I had to take. I was getting infections all the time. My gums are (were) splitting and very painful. I was in the hospital the week before I got your wonderful Emethy products. I was told that I had the MSR virus. The antibiotic they gave me was very strong and make me sick to take it. When I started using your Emethy products ALL of my symptoms cleared up. I am now able to enjoy my day and do simple pleasures like go outside in my garden and see my beautiful flowers... l don't sit and cry anymore :)..This happened almost immediately.. I would not be without Emethy for sure. I have also always had like a tightness on the left side of my upper stomach area, this also has gone now ..I am so happy for you and your product that I can't wait to try your other ones. Thank you so much….... Aweston from Florida
Why did you use this Sandvox design?
Because it represents Africa where Emethy was discovered.
What techniques did you use to build this website?
Cut and pasted most information from my X Website.
---
---
www.SandvoxSites.com/2406