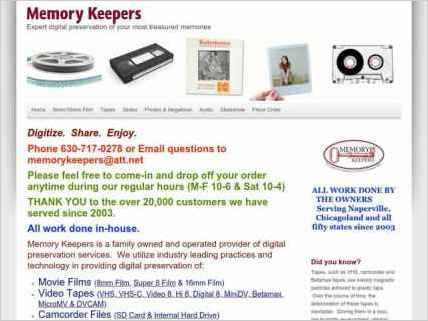 To build "Memory Keepers" for Memory Keepers, LLC, Jay E. Parker chose Sandvox. He chose the "Blueball Minimal Colors Burgundy" design for the site. People may want to visit the site if they are looking for Digital preservation of film tapes slides photos.
Sandvox features used for this site:Contact Form
---
Describe your website.
My website describes each of the many services that my small business provides. It contains a description of how we do it, the pricing and a comprehensive list of FAQs. The website is the primary way people learn about us and then bring us their business. It's the most critical information giving tool we have, by far!
Who is the target audience for your website?
Our target audience is anyone holding a piece of family history in their hands that would like to have in a digital format. We provide not only preservation but also we make their memories easy to enjoy and share. Many customers find our service to be one of the most important things they have ever had done.
What is the advantage of your website over others?
This industry has a wide range of expertise and experience. Our website ranks among the top for content, both in terms of educating the customer and clearly laying out pricing and FAQs.
Tell us a story about this website.
We consistently get great feedback about all the detailed information we give. This service is extremely important to our customers. They want to be educated about the process and find confidence in a provider for handling their irreplaceable family memories.
Why did you use this Sandvox design?
I used the Blueball design because it gave me a chance to create the nice graphic at the top of the page, the links to our may services and sidebars for pricing and fun facts and our logo. I also added the ability to have FAQs that pop back and forth from the list to the verbiage.
---
---
www.SandvoxSites.com/2349