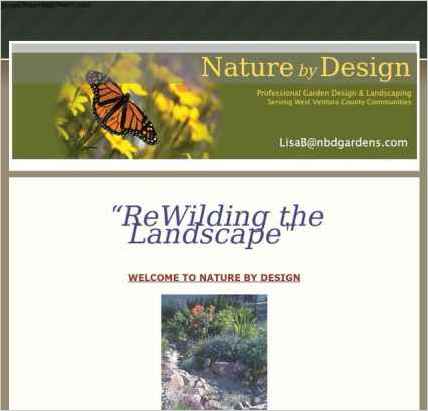 Sandvox was the choice for Lisa Burton to build her website. She chose the "Galaxy Brown" design for the site. People may want to visit the site if they are looking for Sustainable garden landscaping design and installation in Ventur.
Sandvox features used for this site:External Page, Site Map, Contact Form, YouTube
---
Describe your website.
My website is created to advertise my sustainable garden design and landscape installation business in Ventura County, California. Its purpose is also to educate people about creating landscapes that have the most beneficial impact on the environment and reduce the use of water. I specialize in creating native plant gardens; wildlife habitats that attract birds, butterflies and beneficial insects; succulent gardens; lawn alternatives; ocean-friendly gardens that capture rain water and redirect it into the garden; drought tolerant plants and landscapes; fire safe landscaping; water gardens including ponds and fountains; hardscaping that is in harmony with nature; creating balanced garden ecosystems and utilize the practices of integrated pest management; garden retreats; meditation gardens; children's gardens; butterfly gardens; edible gardens; removing lawns; vegetable gardens; water-wise gardening; low water landscapes.
Who is the target audience for your website?
The gardens I create are custom designed for homeowners who are interested in removing their lawns and replacing traditional landscaping with drought tolerant, low water gardens that are in balance with nature. In particular, people who care about protecting the environment, native plants, succulents, and attracting local wildlife including birds, butterflies and beneficial insects. Homeowners who are interested in creating a backyard garden retreat for meditation and yoga. The gardens I create are also places for renewal and healing for those who experience depression, high blood pressure, and other medical conditions.
What is the advantage of your website over others?
I am passionate about my mission and the educational nature of my website reflects that passion. The quality and beauty I bring to all the gardens I create is unique and individually designed for each client. I consider each job a blank canvass on which I paint a garden that is filled with color, fragrance, and life. My mission statement says it all: There is no better place for being responsible stewards of the earth than in our own back yards. At Nature by Design we are committed to the principles of sustainable landscaping and creating gardens that have the most beneficial impact on the environment. I am a certified Master Gardener and recipient of recognition for my mission to "Think Global, Act Local" from the Ventura County Board of Supervisors.
Tell us a story about this website.
Those who visit my website not only learn about my business, they are also educated about sustainable landscaping practices. I receive nothing but compliments about it's visual quality, amount of information, and ease of navigation.
Why did you use this Sandvox design?
It gave the most "earthy" quality to reflect the nature of my business. I would have liked a more casual, relaxed feel as the one I chose is a bit formal and "corporate".
What techniques did you use to build this website?
I used the "line breaks" often to have more control over typography.
---
---
www.SandvoxSites.com/2344