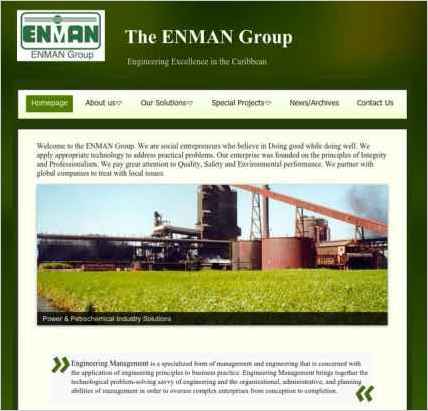 Donald Baldeosingh used Sandvox to build this website for The ENMAN Group. He chose the "Aurora Palace Green" design for the site.
Sandvox features used for this site:External Page, Site Map, Contact Form, Code Injection, Google Integration
Visit Enman Group- Engineering Excellence in the Caribbean »
---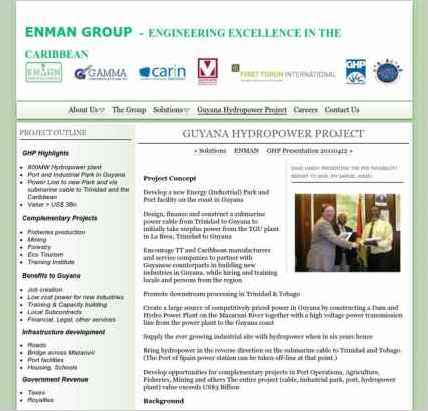 Describe your website.
Engineering Management is a specialized form of management and engineering.The ENMAN Group is a set ot complementary technology oriented enterprises, based in Trinidad & Tobago and operating in the Caribbean. We are Caribbean based with an International outlook, maximising our resources for the benefit of future generations. ENMAN has been studying the options for "new" energy for the region for several years. We concluded that the best opportunity - by far - for deployment of renewable energy on a significant scale and within the medium term is via Hydroelectric Power development in Guyana.
Who is the target audience for your website?
We target persons looking for technology based solutions to complex issues. We are particularly interested in process or power plants seeking efficiency improvements, power and water utilities and anyone seeking energy management. We also welcome inquiries from advertisers on our hospital information system and persons interested in digital signage. We also target schools and learning establishments since we offer classroom technology including interactive whiteboards and student response systems.
What is the advantage of your website over others?
We believe we offer easy interaction and a wide range of solutions to our customers. Visitors can see what we have done from our history and they can see who we are.
Tell us a story about this website.
We have had a we site for more than ten years. I have never liked it, and it got worse over time. It became an embarassment in the end. We had a professional developer work on it and had to ask him to revert to the original "bad" one, rather than the worse one. It was also impossible to keep the site updated as we would have to get someone in for that. Then we hired an in-house person for this and other functions. She worked on it for two months and did not get very far. So, finally, I took the plunge and have no regrets. Sandvox is it!
Why did you use this Sandvox design?
We were looking for a design that gave a professional look. Many of our customers are engineers and senior businesspersons. We wanted to appeal to them and had to have a somewhat conservative look. Also, our company colour has always been green - since inception in 1993. So we wanted a green earthy look. We tried almost all the standard designs before we settled. I was very happy that Sandvox lets you try out the full system as a demo so that I was able to see the entire site operate. Of course, being a complete Mac aficionado, I wanted something that integrated seamlessly and was as much fun to use. Sandvox was it.
What techniques did you use to build this website?
Generally, I followed the tips received and played around with various options. Most of our company information is created in iWork Pages and it was relatively easy to import this. I wanted several logs to appear in the banner so I created a jpg file with sufficient room above the logos to neatly accomodate the Site Title option. This worked very well. I found some challenges as I was rebuilding an old website. I used the old page names as much as I could, so as to retain working Google searches. I also used Cyberduck to clean up the rest of the old site. This worked quite well.
---
---
www.SandvoxSites.com/2102