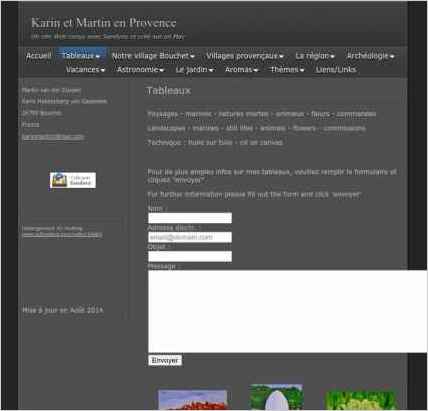 To build "Karin et Martin en Provence," Karin Hakkenberg van Gaasbeek chose Sandvox. She chose the "Smooth Dark" design for the site. People may want to visit the site if they are looking for Photos of the southeast of France, paintings, Provence villages.
Sandvox features used for this site:External Page, Photo Grid, Contact Form, Other Objects
Visit Karin et Martin en Provence »
---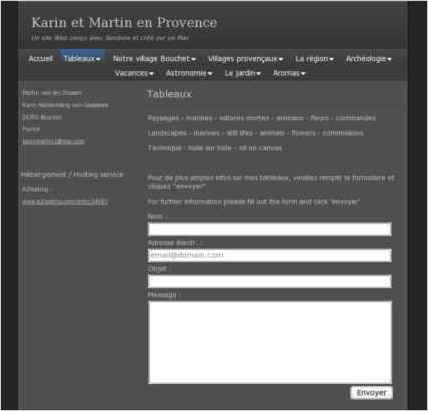 Describe your website.
My website is made to show friends my paintings, our village of Bouchet, villages in the Provence, to show them which archeological sites we visited, where we went on vacation, the stars and planets we've observed and what our garden looks like.
Who is the target audience for your website?
The target audience of my website is my friends in Holland, the USA, France, Germany, Mexico, Spain, my co-villagers, people in the surroundings who want to use my photos, people who want to see if the Provence is worthwhile visiting all over the world.
What is the advantage of your website over others?
The advantage of my website is a quick look at quality photos.
Tell us a story about this website.
My website helped me to become the village photographer and gradually people in this region start to use my photos as well for their publications and websites
Why did you use this Sandvox design?
I chose the Sandvox design because black and dark grey go very well with any kind of photo and it's "tranquil" to look at.
What techniques did you use to build this website?
I did no clever tricks at all, everything I needed was built in the app.
---
---
www.SandvoxSites.com/2301