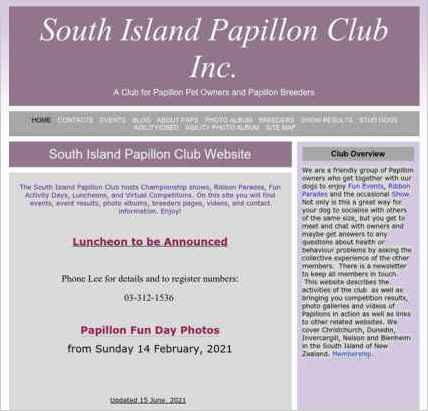 Rick Holcomb used Sandvox to build this website. He chose the "Simply Purple" design for the site. People may want to visit the site if they are looking for Papillon clubs and breeders.
Sandvox features used for this site:Blog, Photo Grid, Site Map, YouTube, Other Objects, Google Integration
Visit South Island Papillon Club »
---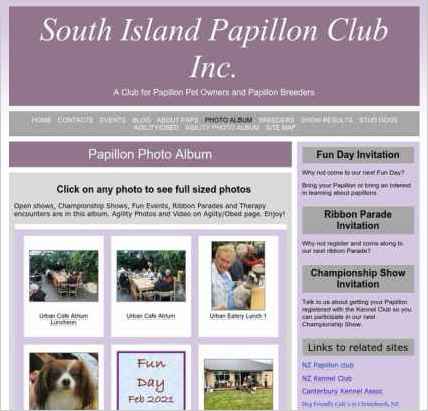 Describe your website.
This website contains information on South Island Papillon Club events, about-paps, a papillon-photo-album, photos and information on Papillon breeders, a papillon-blog, papillon breed and agility show-results, stud-dogs-available-for duty, agility movies and photos, papillon rescue dogs as well as a history and talents of papillons such as show dogs, therapy dogs, companion dogs and agility dogs.
Who is the target audience for your website?
Our site is of interest to prospective papillon owners, current papillon owners and South Island Papillon Club members, dog photographers, those seeking show dogs, therapy dogs, companion dogs and agility dogs. The show results are of general interest to all who show dogs of any kind. While of general interest, the focus of the website is largely in New Zealand and especially in the south Island of New Zealand where activities take place in Christchurch, Dunedin, Invercargill, Nelson and Blenheim to name a few, Papillons are liked by all ages and genders for different reasons.
What is the advantage of your website over others?
Our website is the most comprehensive Papillon website in New Zealand.
Tell us a story about this website.
Our Sandvox website has been a group effort with numerous contributors which has helped the communal spirit of the club, generating dialogue, among the members and pride in membership in the group. The group now has a presence it never had before.
Why did you use this Sandvox design?
The first eature that attracted us to this Sandvox design was the color because purple and silver are the club colors. Then, the flexibility of page design with the side-bars and callouts, albums, video embedding, site map and the blog met all our needs for displaying our information. I particularly like the ability to place sidebar elements on selected pages. It is a very sensible and useable design.
What techniques did you use to build this website?
We used pares with and without sidebars, embedded you tube video, photo album, plain text, photo pages, facebook like, site map and lots of links between pages to keep people moving about and exploring the website.
---
---
www.SandvoxSites.com/2117