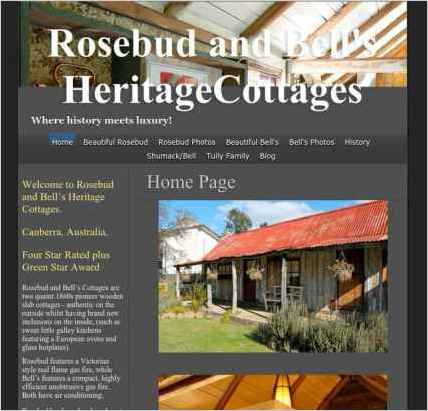 Sandvox was the choice for Maureen Tully to build her website. She chose the "Smooth Dark" design for the site. People may want to visit the site if they are looking for A romantic getaway - where history meets luxury.
Sandvox features used for this site:Blog, Photo Grid, Raw HTML Object
Visit Rosebud Heritage Cottages, Canberra Australia »
---
Describe your website.
My website showcases photographs, both interior and exterior showing the authenticity of the heritage cottages. I want to convey that my two cottages are not only fascinating in their own right as two of the few surviving settlers cottages in the region, but that without compromising them, that the stay will be a delightful and pampering experience.
Who is the target audience for your website?
My site is of great interest to honeymooners, couples looking for a getaway, and to business people who are tired of the same four white walls of nondescript hotels.
What is the advantage of your website over others?
Rosebud and Bell's Cottages offer far more than just a place to stay for the night. They are beautiful, authentic and excellent examples of local laconic architecture and a fascinating glimpse into the daily lives, struggles and challenges facing the pioneers. Guests are delighted with the extremely high standard of comfort and luxury for no more than a nondescript establishment.
Tell us a story about this website.
My website was only completed this afternoon, and already I've had compliments on it through my cottages Facebook page! The challenge of replacing my mobile me page was overcome so easily that I completed the task, enjoyed it and used the time to enjoy a coffee and watch the compliments roll in!
Why did you use this Sandvox design?
The design I've purchased is a good match for my business - it looks like I've invested a great deal of money into mirroring the hight standards of my business practice!
What techniques did you use to build this website?
I enjoyed incorporating a video made for me by a delighted guest! Totally unsolicited, I was thrilled that he enjoyed his stay so much he wanted to sing the praises of Rosebud Heritage Cottage! It was so easy to set up and on the site immediately.
---
---
www.SandvoxSites.com/2161