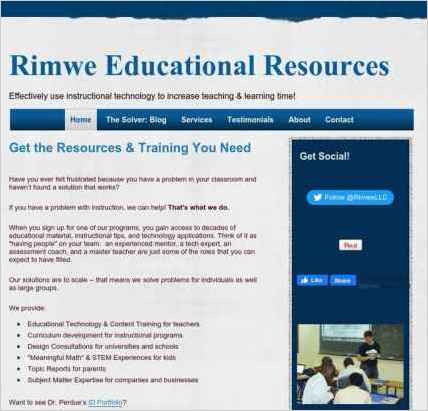 Sandvox was the choice for Dr. Diana S. Perdue to build her website. She chose the "Outside the Lines Blue" design for the site. People may want to visit the site if they are looking for math education consultant in Virginia.
Sandvox features used for this site:Blog, External Page, Photo Grid, Custom Collection Index, Site Map, Contact Form, Amazon.com, YouTube, QuickTime Audio/Video, RSS Feed Object, Other Objects, Editing HTML of text, Raw HTML Object, Code Injection, Google Integration
Visit Rimwe Educational Resources »
---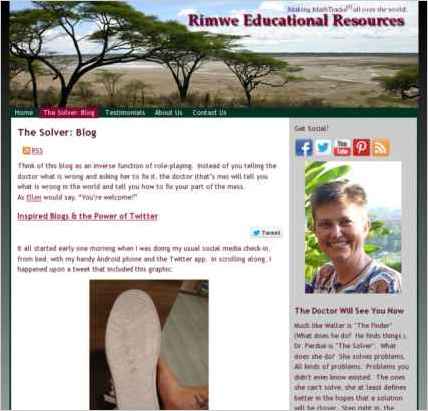 Describe your website.
We want to improve how people learn math. We offer educational services and resources that do just that. These include workshops, seminars, and speaking engagements offering professional development, technology training, and best practices for hybrid education.
Who is the target audience for your website?
Teachers seeking help on "how do I teach that?" Administrators looking for educational consultants in math and STEM. Schools searching for professional development for their math teachers. Students trying to understand math and looking for a tutor. Girls who are interested in science, math, technology, or engineering. Companies seeking educational partners for international projects.
What is the advantage of your website over others?
We completely customize every service we provide to our customers. That means there is no thinly veiled sales pitch or pressure to buy extra stuff like textbooks, technology, or equipment. We offer training and techniques that are uniquely personalized to your specific problems and issues to ensure that the solution is found and implemented.
Tell us a story about this website.
The hardest challenge I faced in creating my website was trying to decide which quotes and testimonials to include that would best represent the wide variety of services we provide. Dr. Perdue has reached so many students and teachers over the years that she has literally thousands of stories and compliments to choose from so it was hard to pick. The best response so far has been from former students (who are now teachers) who saw the site and some of the photos I included and emailed to say, "I remember that class! We had so much fun that day!"
Why did you use this Sandvox design?
I was looking for a "clean" design that was imminently readable but that also had an element of style. The graphic similarity to Africa was just a bonus since Rimwe LLC is so closely connected to Rwanda. Dr. Perdue was a Fulbright Scholar there and is still in touch with her former students (al of whom are now teachers themselves). The cover photo looked similar to several shots she took herself at Akagera National Park in Rwanda.
What techniques did you use to build this website?
I found a great site with raw HTML code that allowed me to create the social media buttons for Facebook, Twitter, Pinterest, LinkedIn, and YouTube. It's from AddThis and it's worked really great with Sandvox. I am also exploring some of the drop down menu plug-in options that are available. I plan to incorporate several of my Screencast-o-matic screencasts as well. For now, I only have inserted my welcome video made with Quicktime.
---
---
www.SandvoxSites.com/2224