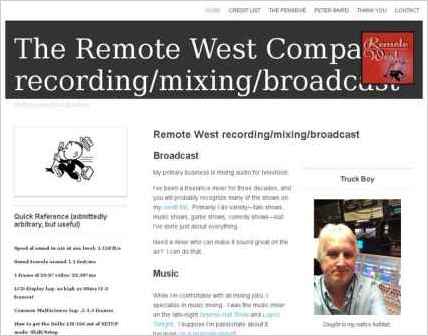 Sandvox was the choice for Peter Baird to build his website. He chose the "Hydrogen Left Sidebar" design for the site.
The Remote West Company
(Website is no longer listed here.)
Sandvox features used for this site:Site Map, Contact Form, Editing HTML of text, Google Integration
Visit The Remote West Company »
---
Describe your website.
First, I talk about what I call The Moment. This is something I've seen many times--it's when a producer suddenly realizes, "I'm very good at what I do," and they can trust Remote West to handle the mix.
Next, I describe the Remote West flagship, the Little Red Truck, an industry leader audio truck.
Then I have some selected news of interesting things the company is doing, and the fascinating people I get to work with.
I think it's important for prospective clients to know the "why" of how passionate I am about mixing and music, so I have a page that gives a short description of my history with a few pictures.
Finally I have a short contact sheet with some rate information on it.
Who is the target audience for your website?
I want television and music producers and artists who might never have considered using a full-service audio company to come to the site. I want people with tight or non-existent budgets to call me first, and we'll figure out a way to get what they need. I want artists who have a great vision but might not have much money. I want to make great music with them.
What is the advantage of your website over others?
The Remote West Company is after all a service company. The website points out the strengths of the people behind the gear and not just the gear itself.
Tell us a story about this website.
The new website has only been up for a few days, so I haven't seen any comments about it versus the old one--but I like it a lot better!
Why did you use this Sandvox design?
Hydrogen is clean, simple, flexible, and gives the sense of unhurried competency clients desire in an overheated, packed-with-posers industry,
What techniques did you use to build this website?
I never even knew about Google Webmaster Tools until I started using Sandvox. Sandvox makes it easy and productive for me to take a 20 or 30 minute slice of my day and dedicate it to improving the site and site traffic.
---
---
www.SandvoxSites.com/2230