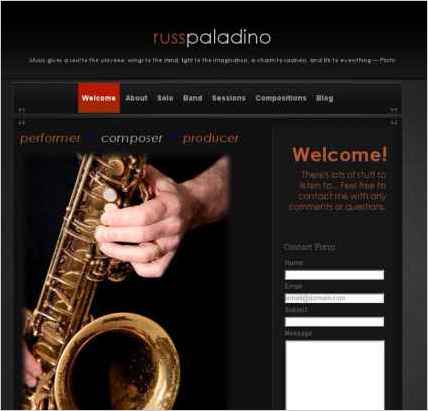 To build "Russ Paladino," Russell Paladino chose Sandvox. He chose the "Slate Manifest Orange" design for the site.
Russ Paladino
(Website is no longer listed here.)
Sandvox features used for this site:Blog, Contact Form, YouTube, QuickTime Audio/Video
---
Describe your website.
My goal is to promote my talents as a saxophone and flute player, as a composer and a producer. I will direct potential clients to my website so they can see and hear examples of my work, and get in touch with me for bookings.
Who is the target audience for your website?
The target audience for my website is producers, studio owner, party and event planners, and caterers.
What is the advantage of your website over others?
My website will provide examples of my work, and demonstrate the eclectic range of talents that I posess as a performer, composer and producer.
Tell us a story about this website.
I have used my website to help close deals for contracting performance as a solo performer and with my band.
Why did you use this Sandvox design?
I like the dark colors and clean layout. I adjusted the color scheme to reflect the 50's/60's jazz design concepts that I love and identify with.
What techniques did you use to build this website?
Since I am presenting a large number of mp3's and video clips I've found it more effective to link to the mp3's stored on the ftp server rather than embedding them in the page. I find that the site loads faster and that the mp3's load smoother like this.
---
---
www.SandvoxSites.com/2226