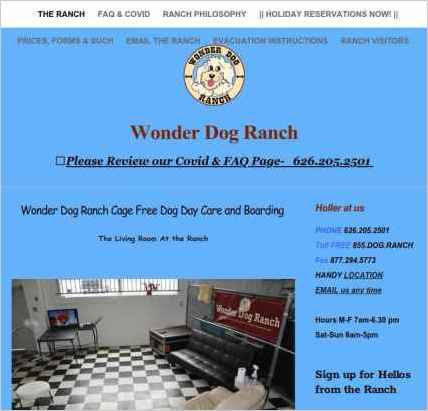 Sandvox was the choice for Kevin D. to build his website. He chose the "Blueball Reactive Black" design for the site. People may want to visit the site if they are looking for Dog Day Care and Boarding Monrovia CA.
Sandvox features used for this site:Photo Grid, Site Map, Contact Form, Google Integration
---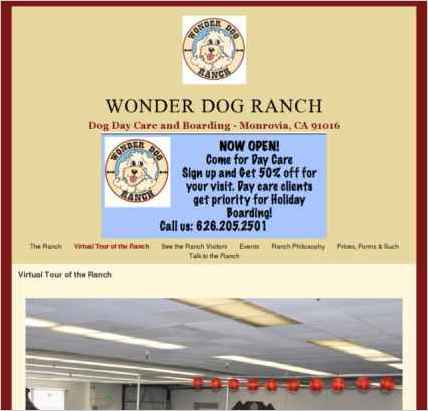 Describe your website.
The website is designed to provide information on our premier dog day care and boarding facility. A virtual tour is available as are the prices, forms and such. We provide superior cage free boarding, and supervised day care for sociable dogs. We are flexible or our customer needs, and are a local community oriented business.
Who is the target audience for your website?
Wonder Dog Ranch provides services to people who regard their dog as a family member, and want care and attention for their dog. Our customers are discriminating, and want good service from a local provider, that cares about them as well as the community.
What is the advantage of your website over others?
Our website gives a good virtual tour and has al the information needed to sign your dog up. It also has our philosophy of care.
Tell us a story about this website.
We often tell a customer on the phone to look at the site, as we speak. Many of them are then convinced as they see the pictures.
Why did you use this Sandvox design?
My marketing person thought it would work.
What techniques did you use to build this website?
I used a screenshot of a typed page rather than a picture on the banner media page as it was too hard to get a picture that would fit in the media banner. I am sure it is possible but so far pretty hard to get a regular picture to jump in there so it is viewable. Media banner is a strange size.
---
---
www.SandvoxSites.com/2191