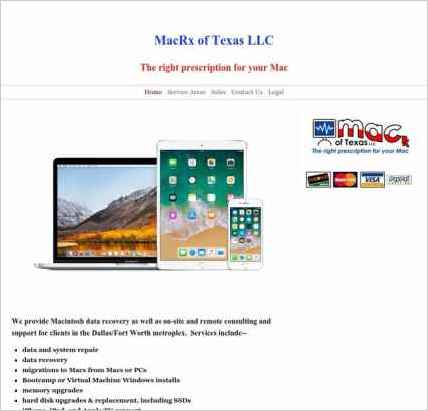 Mark Bolzan used Sandvox to build this website. He chose the "Clean Sheets" design for the site. People may want to visit the site if they are looking for Apple Macintosh consulting data recovery in Dallas ft. worth.
Sandvox features used for this site:Site Map, Editing HTML of text, Google Integration
---
Describe your website.
We provide Macintosh data recovery as well as on-site and remote consulting and support for clients in the Dallas/Fort Worth metroplex.
Who is the target audience for your website?
My target customer is a home or small business user using Apple Macintoshes, iPads, and iPhones to meet their computing needs. I also support isolated islands of Macintoshes in large companies whose IT departments generally ignore them.
These customers sometimes need technical support for their Macs, their printers, their networks, etc. but either don't have access to, or can't afford, a dedicated IT staff.
My customers are located in the Dallas/Fort Worth TX metroplex. I can provide on-site and remote support.
Why did you use this Sandvox design?
I chose "Clean Sheets" because I wanted a simple clean site.
Visually, that design seemed spare whereas other choices seemed cluttered and distracting to me.
---
---
www.SandvoxSites.com/2147