Mark Foy used Sandvox to build this website. He chose the "Kryptonite" design for the site.
Vitalita - Free Vegan Cookbooks - Technology Consulting
(Website is no longer listed here.)
Sandvox features used for this site:Blog, External Page, Photo Grid, Custom Collection Index, Site Map, Contact Form, RSS Feed Object, Other Objects, Editing HTML of text, Raw HTML Object, Code Injection, Google Integration
Visit Vitalita - Free Vegan Cookbooks - Technology Consulting »
---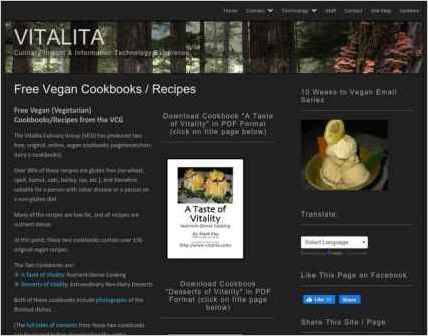 Describe your website.
This web site is split into two sections: (1) Culinary Services, and (2) Technology Consulting.
In the Culinary (VCG) section, free vegan cookbooks / recipes (downloadable in various formats including PDF) are offered, as well as information about Vitalita's culinary services.
In the Technology (VTG) section, consulting services are outlined (specifically in the area of Oracle Applications).
In the vacation rental section, all details about a Berkeley vacation rental home are outlined.
Who is the target audience for your website?
This web site has many different targets:
- People looking for free cookbooks / recipes (especially vegan and gluten free recipes) and culinary services.
- Businesses looking for Oracle E-Business Suite technology consulting services.
What is the advantage of your website over others?
This website can be easier to navigate than other websites when one wants to download a number of recipes quickly. The structure of this website, and the recipes, allows a visitor to easily download all the vegan recipes (with pictures) in just a few clicks.
On the Technology side of the website, a visitor can quickly summarize the expertise offered.
Why did you use this Sandvox design?
I chose the Earth and Sky design for the Culinary/Technology pages due to the clean and simple colors with navigation tabs that are easy to read.
What techniques did you use to build this website?
Made small modifications to the CSS page - this allowed me to customize the background colors of the site to better suit the web site content AND different font priorities.
---
---
www.SandvoxSites.com/134