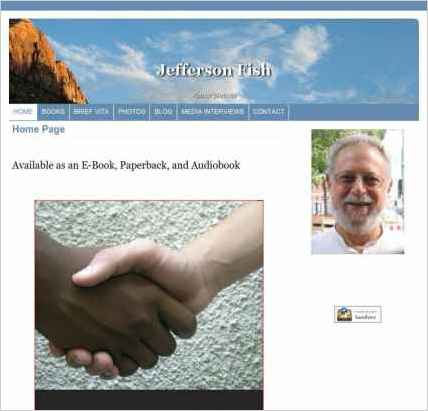 To build "Jefferson Fish," Jefferson Fish chose Sandvox. He chose the "Earth & Sky Blue" design for the site. People may want to visit the site if they are looking for The Myth of Race, understanding biology and culture.
Sandvox features used for this site:Blog, Contact Form
---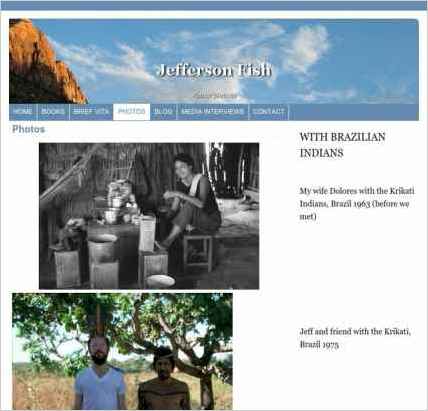 Describe your website.
Home: Table of Contents and a brief description of the message of The Myth of Race.
About: A brief description of my relevant background, pictures of the covers of my previous books, and a few endorsements by prominent people.
Brief Vita: A brief academic biography, references for all of my books, and a sampling of my articles.
Photos: My inter-racial family--my anthropologist wife, my daughter, and I with Brazilian Indians; with my daughter's family; and our cats.
Blog: A link to my Psychology Today blog, Looking in the Cultural Mirror.
Contact: An e-mail contact form.
Who is the target audience for your website?
Readers of my Psychology Today blog, Looking in the Cultural Mirror; people interested in race and race relations, people in interracial relationships, members of minority groups, children of intermarriage, immigrants--especially from places with a different concept of race from that in the US, people interested in psychology, anthropology, biology, and the social sciences. Age range: High school to very old.
What is the advantage of your website over others?
Other books on race usually deal with just biology, or just anthropology, or just psychology, or just sociology, but this book integrates knowledge and perspectives from all of them. It also includes personal perspectives from an interracial family and from living in Brazil--a country with a very different concept of race.
Tell us a story about this website.
Why did you use this Sandvox design?
I chose Earth and Sky--blue because the layout was simple and straightforward, and I like blue.
---
---
www.SandvoxSites.com/2157