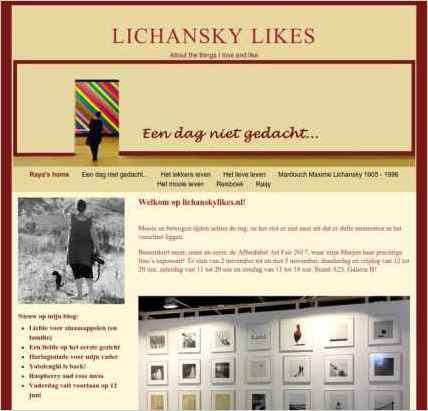 RaayMac used Sandvox to build this website. She chose the "Clockwork Maroon" design for the site. People may want to visit the site if they are looking for food for friends, France, cats.
Sandvox features used for this site:Blog, Site Map, Raw HTML Object
---
Describe your website.
My website consists of four blogs, the main one being 'Over koken, eten en drinken' (About cooking, food and drink). There the visitor will find good and tasty food in clear recipes - as that is part of my profession as a former TV chef. I want to keep teaching people how to cook really tasty food with honest produce. My growing network of culinary friends/colleagues and I think the same, and we derive inspiration from each other.
All the rest of my website is just for my own pleasure, as I love to write. I'd like my website to be a peaceful place where it is good to dwell for a short while.
Who is the target audience for your website?
My website doesn't have a specific age group in mind, but I hope that my musings about food and food adventures, our simple daily life at home and our dreams about France will attract some attention, even if it is only because they know and/or like me.
Why did you use this Sandvox design?
I chose Clockwork - a simple, clear and unobtrusive lay-out.
---
---
www.SandvoxSites.com/1670