Sandvox was the choice for Dianna Smith to build her website. She chose the "Blueball Apex Black" design for the site. People may want to visit the site if they are looking for fungi photos and education.
Sandvox features used for this site:Blog, Photo Grid, Contact Form, YouTube, Other Objects
---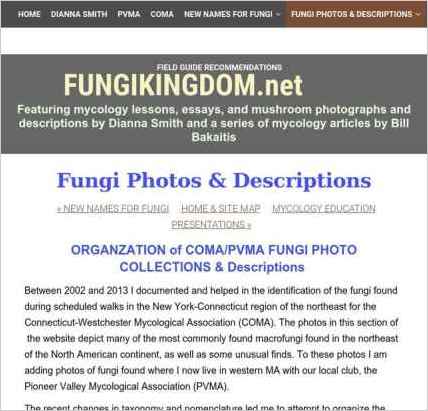 Describe your website.
I am interested in appealing to amateur mycologists or wild mushroom hunters. My site includes lessons that can be used by clubs and individuals. It also showcases my mushroom photography as well as a series of articles by Bill Bakaitis.
Who is the target audience for your website?
My target audience is naturalists, mycologists, mycology clubs and individuals interested in learning about mushrooms and other fungi.
Tell us a story about this website.
I only just downloaded the program and I am still working on the site.
Why did you use this Sandvox design?
I tried several backgrounds, even paid for some extra ones, but found that the one I ultimately used features the mushroom photos well. It is simple, but effective.
---
---
www.SandvoxSites.com/1666