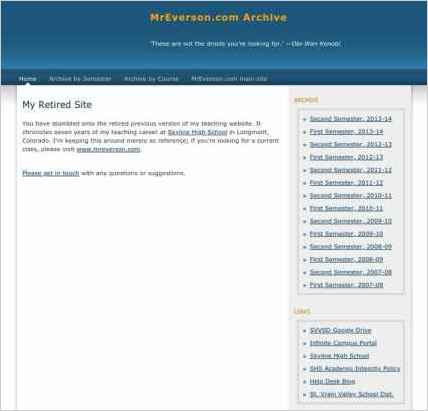 To build "MrEverson.com," Benjamin Everson chose Sandvox. He chose the "Mezzanotte (better links)" design for the site. People may want to visit the site if they are looking for high school English lesson plans and teaching materials.
Sandvox features used for this site:Blog, External Page, Custom Collection Index, Contact Form, RSS Feed Object, Other Objects, Editing HTML of text, Raw HTML Object, Code Injection, Google Integration
---
Describe your website.
My Web site is a daily blog of the activities and assignments in every class I teach at Skyline High school. It is meant as a resource for students and their parents, but now in its second year it has proven to be a valuable resource to my colleagues and me as well.
Who is the target audience for your website?
The audience primarily is my students and their parents. A very secondary audience is other teachers. I have colleagues using my site to help them with their own lesson plans, and I have received a couple e-mails from teachers at other schools wanting to borrow materials for their own teaching.
Tell us a story about this website.
I get complimented on my site by parents all the time. They love being able to verify the claims of, "I don't have any homework." I've also received compliments from administrators and resource teachers. When a student is absent for an extended period of time or needs extra support, I send out the URL to my site to the teacher or administrator requesting work from me. Saves all of us a ton of time.
Why did you use this Sandvox design?
I'm not crazy about the design I'm using. It was basic and not overly media-based, which fit my needs at the time. I'd like to transition to a different template, and I've got a few picked out that I want to try, but I just don't have the time to devote to it.
---
---
www.SandvoxSites.com/102