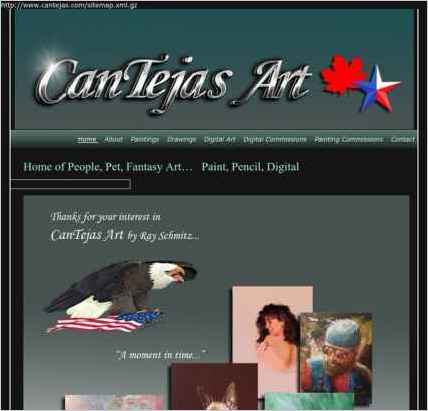 To build "CanTejas Art," Raymond Schmitz chose Sandvox. He chose the "Night Breeze" design for the site. People may want to visit the site if they are looking for realistic people illustrations, fantasy people illustrations.
Sandvox features used for this site:Photo Grid, Contact Form
---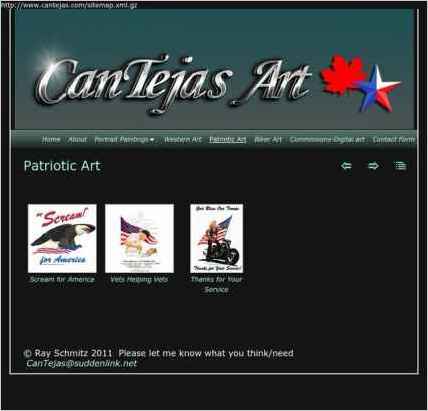 Describe your website.
My website presents illustrations in seven sections. Western art, patriotic art, biker art, fantasy pinups, fantasy sports pinups, misc, commissions. The content on my site shows my art, links to products for sale, invites commissions, explains how to create fantasy image.
Who is the target audience for your website?
My art typically appeals to those who like realistic drawings and illustrations and fantasy illustrations created realistically. Bikers, pinup fans, western art
fans who like human interest themes.
What is the advantage of your website over others?
I have a passion for what I do. Interacting with clients to achieve the goal they have for a commissioned piece is as satisfying as the creation process itself.
Tell us a story about this website.
I just created this Sandvox site and will report on the results in the future. So far, the customer support has been outstanding!
Why did you use this Sandvox design?
I modified an existing design. I wanted clean and simple with black to set off the color of the art.
What techniques did you use to build this website?
I did nothing tricky or exotic. I pulled in my own art for the header and home page look.
---
---
www.SandvoxSites.com/1572