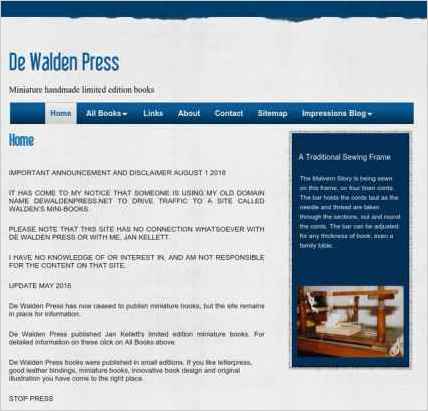 Sandvox was the choice for Jan Kellett to build her website. She chose the "Outside the Lines Blue" design for the site. People may want to visit the site if they are looking for hand made miniature books.
Sandvox features used for this site:Site Map, Contact Form, Google Integration
Visit De Walden Press Miniature Handmade Books »
---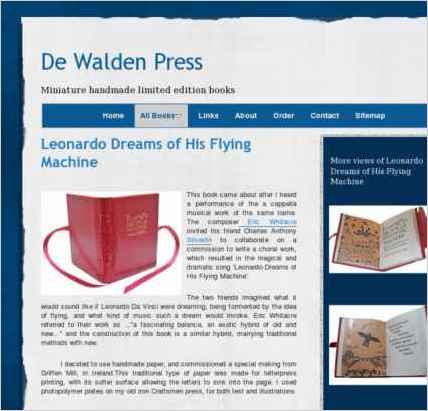 Describe your website.
De Walden Press is a private press, publishing my handmade miniature books. My website shows all the books published by De Walden Press, including six Distinguished Book Award winners, Qualicum Blue, The House That Jack Built, Old London Bridge, The Malvern Story, Shakespeare's Flowers and Shakespeare: Man of Property. There is also information about De Walden Press and how to order these limited edition books. Collectors often wish to know about sold out editions so they can look for them on the used book market. They also like to know the stories behind the books, how they came to be written, the techniques used to print, illustrate and bind them, and the materials used.
Who is the target audience for your website?
This site will appeal to collectors, students, and all lovers of miniature books, as well as artists and bookbinders, and perhaps letterpress printers too. It will also be a source of information for librarians and cataloguers and gives a complete overview of the books published by De Walden Press from 1996 to the present. I've been told that my work inspires others to be creative, and ultimately that is fulfilling for them and pleasing to me. The miniature book community is international in scope, my customers come from North America, Finland, Belgium, Japan, Brazil, UK, Germany, Spain, and many other parts of the world, and can be individuals or institutional libraries (universities, colleges etc mainly).
Why did you use this Sandvox design?
The Outside the Lines Blue design with the page of white hand made paper complements the content of my site. I like the clean white page, and the beautiful deep blue border, and the typeface used for the headings is slightly quirky but still easily readable. The layout is adaptable and presents the text and images well, so overall it was the clincher for me to purchase Sandvox.
What techniques did you use to build this website?
The most interesting thing about my site is the original content, which is what people go there for.
---
---
www.SandvoxSites.com/1576