 To build "Sayware," Ty Sayman chose Sandvox. He chose the "Blueball Gravitas Business" design for the site.
Sandvox features used for this site:External Page, Photo Grid, Site Map, Other Objects, Editing HTML of text, Raw HTML Object, Code Injection, Google Integration
---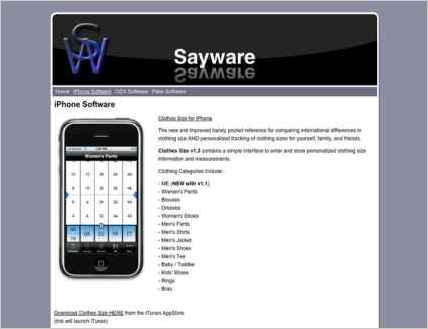 Describe your website.
The Sayware site is a place for my software projects. It contains several iPhone Apps and OSX applications as well.
Who is the target audience for your website?
The target audience for our site are people who are interested in iPhone applications or OSX applications. the OSX applications are utilities, while the iPhone applications are a bit of a mix between utilities, racing support programs, and base conversion utilities.
What is the advantage of your website over others?
This website has a clean layout with easy navigation. There is very little hype or fluff, just basic information and detail about the programs available.
Why did you use this Sandvox design?
I chose this design because it worked with our iPhone app icons the best, plus it has a good color set with contrast.
What techniques did you use to build this website?
This site has both JQuery and Lightbox running at the same time. One is for the usual lightbox pictures, while the JQuery is playing a slideshow of iPhone screenshots. The raw HTML pagelets were good for the iPhone app icons down the sidebar on the child sites for each software.
---
---
www.SandvoxSites.com/42