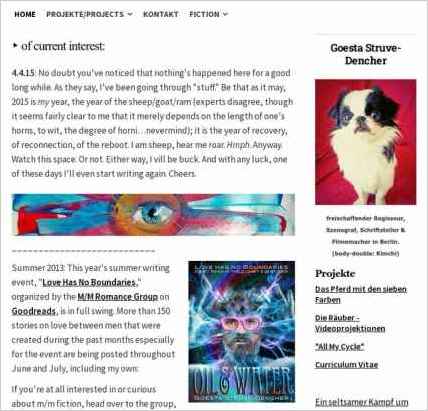 Goesta Struve-Dencher used Sandvox to build this website. He chose the "Blueball Flexor Black" design for the site. People may want to visit the site if they are looking for photos, artwork and thoughts about the meaning of creativity.
Sandvox features used for this site:Blog, External Page, Photo Grid, Other Objects, Raw HTML Object
Visit Goesta's Private Corner on the Web »
---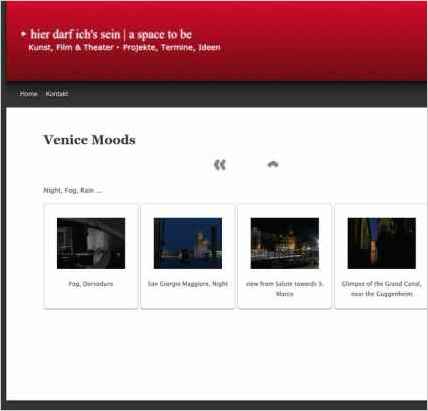 Describe your website.
This is my "space to be", to share thoughts, images and experiences genuinely and without pretense, primarily about my relationship with art and art-making and my search for spiritual roots. Future entries may focus more on theatre as well.
Who is the target audience for your website?
I would like to attract curious souls and like-minded individuals, who wonder about why we respond to beauty, and what place art, and by extension every person's creative soul, has in society. I frequently wonder whether contemporary "high art" fulfills that purpose or not.
Tell us a story about this website.
During a period of fairly deep depression, I nevertheless had these moments of insight into what creativity means to me, and thanks to Sandvox I could just immediately write down these thoughts into my blog as they came. Having a frame for this, and imagining that I am talking to someone "out there", helped me with the process, and I learned a lot about myself as well.
Why did you use this Sandvox design?
Right now the site is really clean and simple, but I'm still playing around with the look. A year ago it was black, now it's white ... something about my mood, maybe. Next month it migh be really colourful. With Sandvox, I can do that!
---
---
www.SandvoxSites.com/677