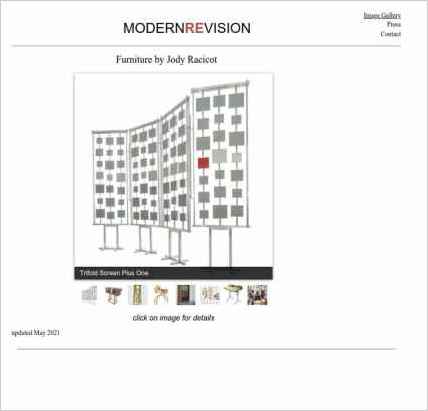 To build "Jody Racicot - Furniture Maker," Jody Racicot chose Sandvox. He chose the "Minimalist" design for the site. People may want to visit the site if they are looking for custom made fine furniture.
Sandvox features used for this site:Blog, Custom Collection Index, Site Map, Contact Form
Visit Jody Racicot - Furniture Maker »
--- Describe your website.
I designed my website to communicate with those who are interested in finding modern custom made furniture. My gallery page features a few examples of my recent work. I have a blog feature in which I share inspirations both in my work and life.
Who is the target audience for your website?
My website is for those who collect unique hand made art and furnishings for their homes. My customers have an appreciation for the work of the artisan and expect the very best.
What is the advantage of your website over others?
Customers are intimately involved in the creation of one of a kind piece of furniture. I go into considerable detail describing the process of building fine furniture in my blog. This allows for a deeper understanding of what goes into a piece and what distinguishes it from mass produced furniture. The exchange is gratifying for both the client and the maker.
Tell us a story about this website.
As a busy actor my name often appears on websites dedicated to movies and television. Many fans have been surprised to visit my website and find that it is not dedicated to my acting career rather to my passion for building furniture.
Why did you use this Sandvox design?
I am using Cathedral right now and like the large photo banner on top and the clean, soft look. Initially, I chose Smooth Dark for an edgy, modern feel.
---
---
www.SandvoxSites.com/762