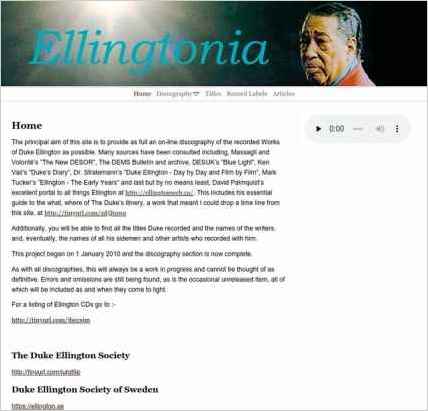 Sandvox was the choice for Marcus Girvan to build his website. He chose the "Clean Sheets" design for the site. People may want to visit the site if they are looking for Duke Ellington, Jazz, Music, Discography.
Sandvox features used for this site:YouTube
--- Describe your website.
The website is designed as a resource for people wanting to know more about Duke Ellington, not just the man and his music but what was happening around him.
It will list his musicians, many of whom were prominent in their own right and links will be provided so that visitors to the site can find out more information about them. Eventually basic information, other than that such as dates of birth and death, will be provided on the site but I think that what we are engaged with at present is more than enough.
Who is the target audience for your website?
Anyone interested in Jazz but more particularly those wanting more in depth information about Duke Ellington.
What is the advantage of your website over others?
No one else is providing a comprehensive on line discography at the present time.
Tell us a story about this website.
Probably the most effective incentive I had for the site was listening to others talking about how such a site could be built by a committee.
Eventually I had heard enough to realise it would probably never happen and would not be how I would do it.
The only solution was for me to build the web site I would go to.
Why did you use this Sandvox design?
It is one of only two that would provide what I needed. All the others restricted the width of the information that I needed to provide without wrapping. The only alternative was to use a smaller point size which would lead to illegibility.
The other point that I like is the simplicity. Too many sites are full of clutter.
What techniques did you use to build this website?
At present I am just importing spreadsheet information. As the site progresses I hope to be able to use the added features of Sandvox Pro but for now the prime concern is getting the basic information out there.
---
---
www.SandvoxSites.com/709