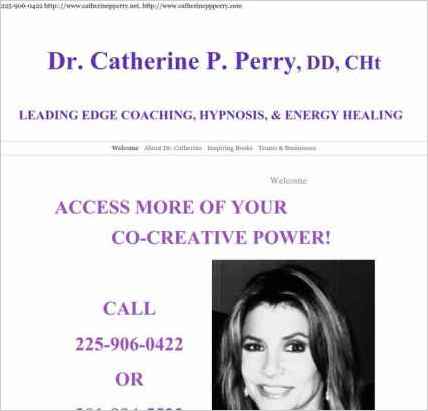 Catherine P. Perry used Sandvox to build this website for Catherine P. Perry, LLC. She chose the "Clean Sheets" design for the site. People may want to visit the site if they are looking for Energy Work, Spiritual Life Coaching, Hypnosis, An Inspiring & E.
Sandvox features used for this site:External Page, Other Objects, Raw HTML Object, Code Injection, Google Integration
Visit Dr. Catherine P. Perry, M.Ed., DD Author, Spiritual Healer »
---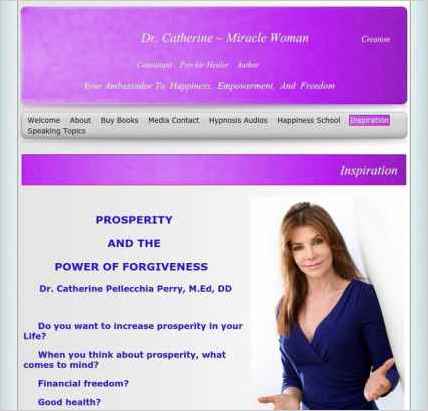 Describe your website.
My Web site is designed to promote the life-altering service I provide. I am a gifted intuitive, spiritual healer, inspirational speaker, and author of the inspiring new book Courageous Wake. I invite people to schedule individual healing, hypnosis, or coaching sessions to melt the roadblocks to success and happiness. I promote my book Courageous Wake as an inspiring and empowering story ~ one that accelerates the spiritual growth and injects readers with the courage to follow their own paths.
Who is the target audience for your website?
My audience comprises individuals from age 30 to 90, predominantly women, who are on a deliberate spiritual growth path and seeking greater depth, an acceleration of healing and awareness ~ Those looking for the "next level" in living according to their life purpose and reaching their creative potential. 20 to 30% of readers are male. The audience spans the US as well as across many cultures around the globe. A global spiritual awakening is taking place right now, and Courageous Wake is perfect for those opening more to their true nature and wanting to expand their spiritual awareness.
What is the advantage of your website over others?
My very energy magnetizes those individuals who seek my assistance and my wisdom. It is not the technology or a competitive Web site that draws people. Rather, it is the Universal Law of Attraction along with the gift of Divine Synchronicity.
Tell us a story about this website.
My Web site helped me to have a professional online presence that attracted a producer to invite me as a guest on a popular radio show! He Googled me to check out who I am ~ He was satisfied that my business is legitimate and that I am the expert I purport to be.
Why did you use this Sandvox design?
The colors are soothing to the eye. I wanted something that resonates with healing, relaxation, and harmony. The purple with pale grays are just right.
---
---
www.SandvoxSites.com/716